Steamed Mussels with Thai Coconut Broth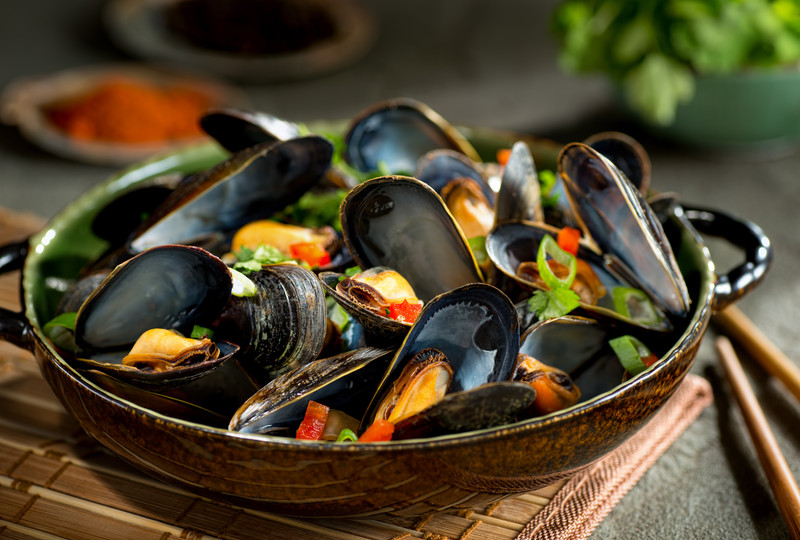 Steamed Mussels with Thai Coconut Broth
2016-03-29 14:17:56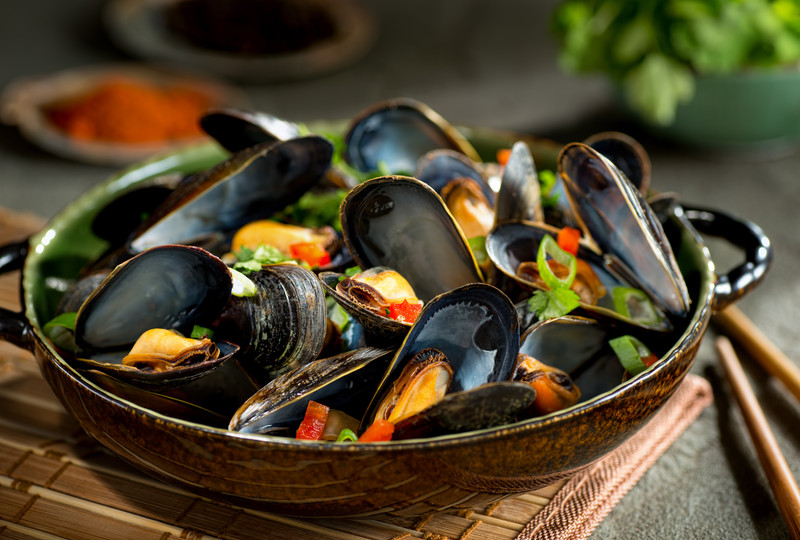 Serves 2
Main Dish
20 farm-raised mussels, cleaned
3/4 cup Thai coconut broth (recipe follows)
3 fresh Thai chilies, cut into thin rings
2 cloves garlic, sliced and blanched
Red bell pepper
1/8" dice 2 scallions, thinly sliced
1 tablespoon butter
Thai Coconut Broth
1 ounce fresh ginger, smashed
2 tablespoons peanut oil
1 lemongrass stalk, smashed
1/4 cup Thai basil leaves
5 fresh Thai chilies
5 cloves garlic
2 shallots, chopped
5 14-ounce cans coconut milk
1 ounce galangal
2 tablespoons fish sauce
1 tablespoon lemon juice
2 tablespoons sugar
1/4 cup kaffir lime leaves
Salt and pepper to taste
Thai Coconut Broth
Heat the peanut oil in saucepan. Add the ginger, galangal, garlic, Thai chilies, and shallots. Sweat for 5 minutes.
Add the coconut milk, lemongrass, fish sauce, lemon juice, sugar, salt and pepper, and kaffir lime leaves. Simmer for 15 minutes.
Remove from the heat and strain through a fine mesh strainer. Cool.
Main DIsh
In a large sauté pan over medium heat, sauté the garlic and chilies in a small amount of butter. Add the mussels, and heat slightly.
Add the Thai Coconut Broth. Cover. Cook until the mussels have opened. Mix in the diced red pepper. Pour in a bowl, and garnish with scallions.
Cooks Recipes http://recipe.cookswarehouse.com/
Serves 2 as an appetizer. Recipe courtesy of
Georgia Aquarium Seafood Savvy Program
/Wolfgang Puck
Google+