Spicy Watermelon Lemonade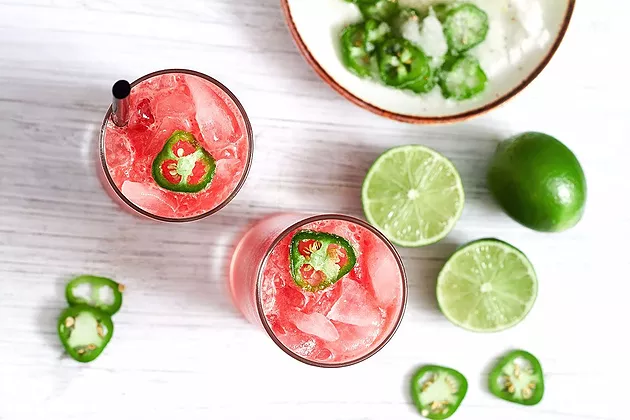 Spicy Watermelon Lemonade
2017-06-14 11:25:56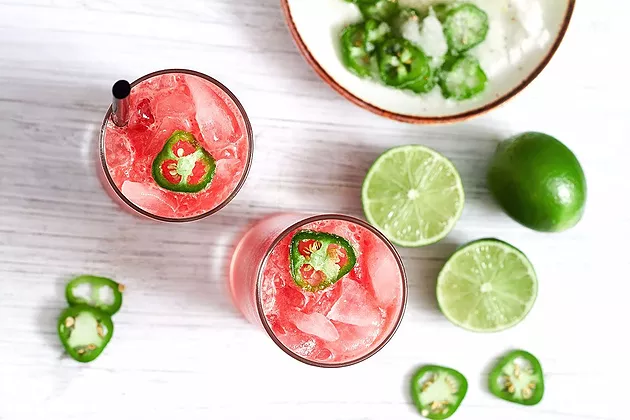 Serves 2
Sweet and spicy is a combination that we LOVE, yet don't get to enjoy very often! We have found the perfect balance of the two extremes in this Spicy Watermelon Lemonade, you've got to try it! Thank you eatwell101 for perfecting this this sweet and spicy treat.
Ingredients
½ cup granulated sugar
½ cup water
1 jalapeño, sliced (remove seeds if you want it less spicy)
5 cups diced watermelon
Juice of 1 lime
2 cups soda water
Instructions
1. In a small saucepan over medium heat, add sugar and water. Cook until sugar has dissolved and remove from heat. Add in jalapeño and steep for at least one hour. Filter out jalapeño and transfer the simple syrup to a sealable jar. Keep in refrigerator.
2. Puree the watermelon in a blender and strain through a fine mesh strainer—work in batches if necessary. Transfer to a pitcher, stir in lime juice and add soda water. Pour in 1/4 cup simple syrup and taste. Add more simple syrup if desired.
3. Prepare glasses with crushed ice and fill with the watermelon soda to the top. Garnish with a Jalapeño slice if you like and enjoy right away.
Notes
Note: Making it for just the adults? Spike it with a dash of vodka for the perfect summer cocktail!
Cooks Recipes http://recipe.cookswarehouse.com/
Google+