Spicy Chorizo and Poblano Chili Hash Browns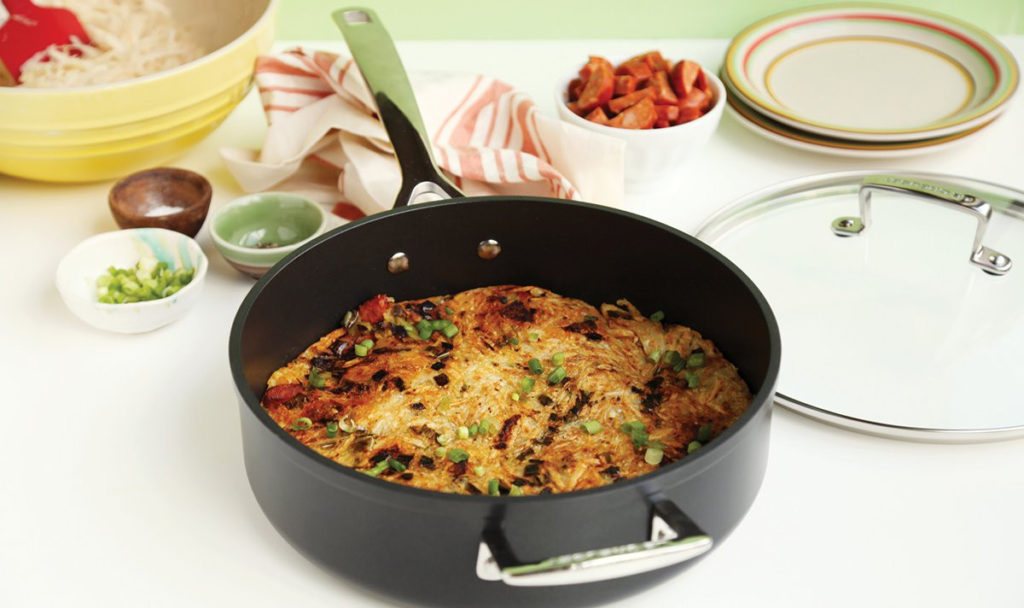 Spicy Chorizo and Poblano Chili Hash Browns
2017-04-24 08:18:14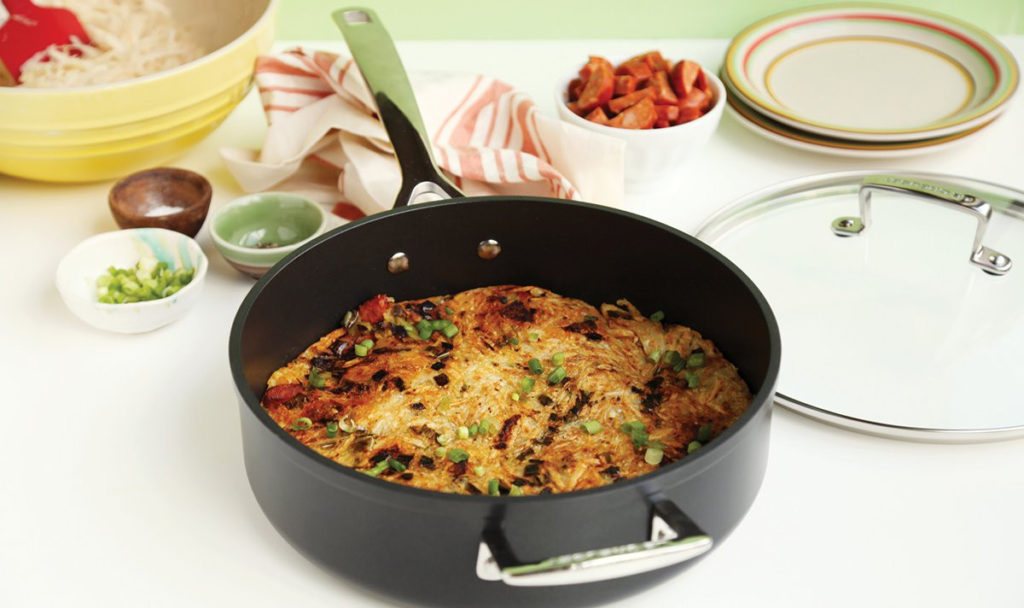 Serves 6
Spice up your brunch or dinner table with this south of the border inspired side dish.
Ingredients
2 tablespoons olive oil
8 ounces Spanish chorizo, thinly sliced
2 poblano or hatch chilies, seeded and chopped
5 russet potatoes, peeled and shredded
1 1/2 teaspoons kosher salt
1/2 teaspoon coarsely ground black pepper
1/4 cup sliced scallions, divided
Instructions
Set a nonstick 4 1/2 qt. saute pan over medium-high heat and pour in the olive oil. Once the pan is hot, add the chorizo and chilies. Cook until brown and crispy, about 5 minutes.
Meanwhile, rinse the shredded potatoes in a fine mesh strainer under cold water until the water runs clear. Transfer to a clean kitchen towel and squeeze out as much of the liquid as possible.
Add the shredded potatoes to the saute pan. Season with salt, pepper and half the scallions. Stir to combine, then press down firmly on the mixture with a spatula to even it out.
Lower the heat and continue to cook for 15 minutes. Place a large plate over the top of the saute pan and carefully invert the hash browns onto the plate. Slide the hash browns back into the pan to brown the other side. Cook another 15 minutes. Remove from the heat. Slice and serve with the remaining scallions.
Notes
© 2017 LE CREUSET. All rights reserved.
Cooks Recipes http://recipe.cookswarehouse.com/
Google+