Skillet Cornbread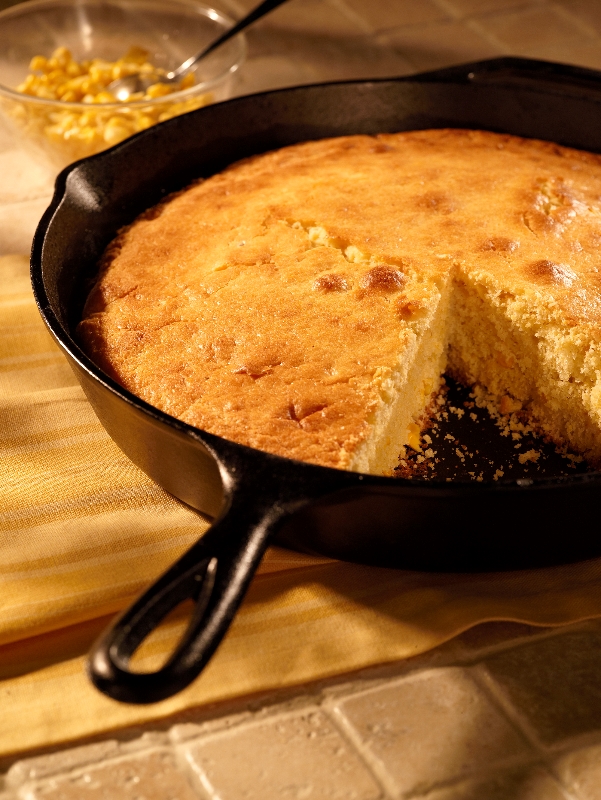 Skillet Cornbread with Fresh Roasted Corn
2014-09-25 10:14:50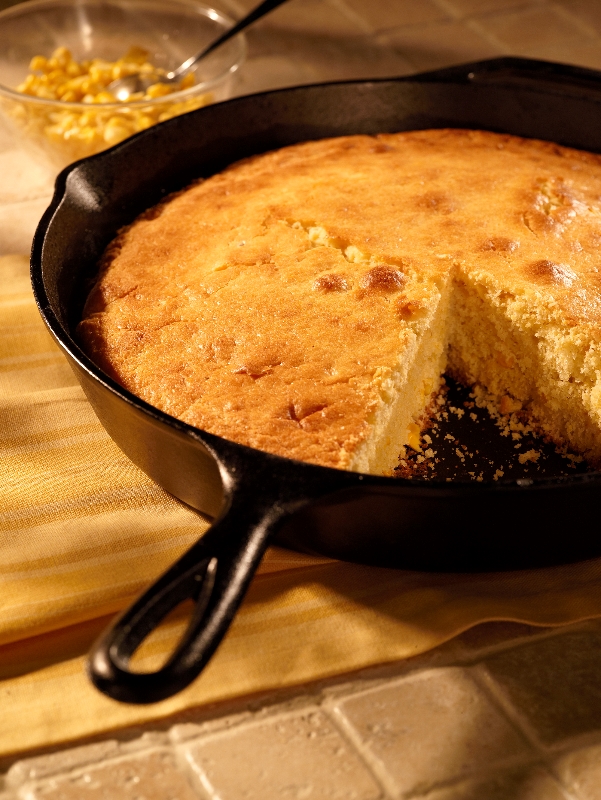 This recipe is one of our favorites from the Big Green Egg cookbook! No need to pack up your grill for the season - fall and winter are some of the best times to fire up your EGG! And because it works just like a convection oven, it bakes a pan of cornbread just as well as it grills a steak or smokes a rack of ribs! Take the old-fashioned Southern route by baking this cornbread in a well-seasoned iron skillet. You can also use a baking dish or muffin pan (without paper liners); just be sure to adjust the cooking time. This recipe includes fresh roasted yellow corn and heavy cream, producing a very rich and moist cornbread. Though it can be served alongside any number of dishes, we love it with a piping hot bowl of chili or vegetable soup while watching the game.
Ingredients
2 cups all-purpose flour
1 Tablespoon baking powder
1 teaspoon kosher salt
1 cup stone-ground yellow cornmeal
1/2 cup granulated sugar
3 large eggs, beaten
8 Tablespoons unsalted butter, melted
2 cups heavy cream
1 1/4 cups roasted yellow corn kernels (about 2 ears)
Instructions
Set the EGG for indirect cooking with the convEGGtor (plate setter), legs down.
Preheat the EGG (or your oven) to 425* F
Sift the flour, baking powder and salt together in a medium bowl. Using a wooden spoon, mix the cornmeal, sugar, and eggs in another medium bowl and stir well. Add the flour mixture to the cornmeal and continue stirring until completely blended. Add the butter, cream, and corn kernels and continue to mix until smooth. chopped or smooth. Season to taste with additional salt.
Pour the batter into the skillet and, using a spatula, spread the batter evenly in the dish. Place on the convEGGtor and close the lid of the EGG. Bake for 35 minutes, or until golden brown and an inserted toothpick comes out clean. Remove the pan from the EGG adn let cool for 10 minutes before cutting.
Notes
Copyright 2009 Andrews McMeel Publishing, LLC, "Big Green Egg Cookbook". Recipe used with permission
Adapted from Big Green Egg Cookbook
Adapted from Big Green Egg Cookbook
Cooks Recipes http://recipe.cookswarehouse.com/
Google+