Ratatouille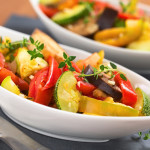 Ratatouille
2015-07-10 12:01:42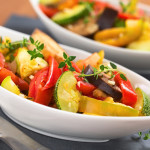 Serves 2
In the dead of winter, slow cookers are a go-to kitchen tool for everything from soups and stews to hearty comfort foods like pot roasts. But slow cookers are equally great (if not better!) during the summer, since they don't heat up the kitchen like other cooking tools and methods. Dust off that slow cooker and enjoy more time on the go, while your new summertime best friend does all of the work! Don't have a slow cooker? Check out our great selection of slow cookers here or stop by any of our 3 locations. Ratatouille is great as a side dish or as a topping for meats and fish. Add in a vegetarian protein, such as tofu, and you have a one-pot meal. Chopping the vegetables "roughly" means to chop them into larger chunks, rather than a typical chop. The vegetables will hold their shape a little better in the slow cooker if left a bit larger. Let Chef and cookbook author Cynthia Graubart continue to inspire you at dinnertime when she returns to our kitchens in September for 3 different cooking classes and when she takes the stage at the Decatur Book Festival with co-author Nathalie Dupree. Stop by any of our stores and pick up a copy of her cookbooks including Slow Cooking for Two, Slow Cooker Double Dinners for Two, Southern Biscuits, Mastering the Art of Southern Cooking, and Mastering the Art of Southern Vegetables.
Ingredients
1 small eggplant, roughly chopped
1 small zucchini, roughly chopped
2 cloves garlic, minced (or 1 teaspoon bottled minced garlic)
1 /4 cup chopped onion
1 red bell pepper, cored, seeded, and chopped
1 cup chopped fresh tomatoes
1 /2 cup sliced fresh mushrooms
1 tablespoon balsamic vinegar
1 tablespoon olive oil
3 sprigs fresh thyme (or 1 /2 teaspoon dried thyme)
Salt
Freshly ground black pepper
Instructions
Coat the inside of a 3 1 /2-quart slow cooker with cooking spray or insert a disposable liner, both optional.
Add the eggplant, zucchini, garlic, onion, bell pepper, tomatoes, mushrooms, vinegar, and oil. Stir well to mix. Top with fresh thyme sprigs, or stir in dried thyme.
Cover and cook on Low for 3 1 /2 hours. Stir ratatouille and season to taste with salt and pepper. If vegetables are not done to your liking, cover and continue to cook up to 1 additional hour.
Taste, and season again with salt and pepper. Serve hot or at room temperature.
Notes
Slow Cooking for Two, Slow Cooker Double Dinners for Two, Southern Biscuits, Mastering the Art of Southern Cooking, and Mastering the Art of Southern Vegetables
From Slow Cooking for Two: Basics, Techniques, and Recipes by Cynthia Graubart, published by Gibbs-Smith, ©2013
Adapted from Slow Cooking for Two: Basics, Techniques, and Recipes
Adapted from Slow Cooking for Two: Basics, Techniques, and Recipes
Cooks Recipes http://recipe.cookswarehouse.com/
Google+