Quick Pickles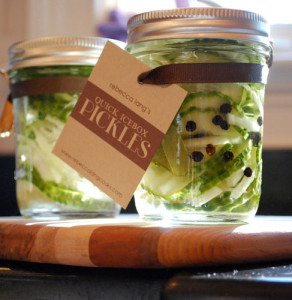 Quick Icebox Pickles
2014-02-20 08:21:35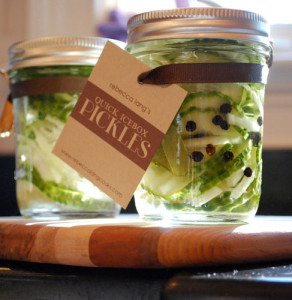 Ingredients
2 cups white vinegar
1 cup sugar
2 dried bay leaves
1 teaspoon salt
1 teaspoon whole black peppercorns
1 (1-pound) cucumber
1/2 medium white onion, thinly sliced into quarter rounds (about 1 cup slices)
Instructions
Bring the vinegar, sugar, bay leaves, salt, and peppercorns to a boil in a medium saucepan, about 5 minutes. Remove from the heat.
Meanwhile, cut the cucumber into 1/8-inch-thick slices. You should have about 3 1/2 cups of cucumber slices.
Divide the cucumber and onion slices between 2 (16-ounce) jars. Carefully pour the vinegar mixture over the cucumbers and onions to fill the jars. Screw the lids on the jars and chill for 2 hours before serving.
Pickles will keep in the refrigerator for 1 week.
Notes
Icebox pickles got their name for a good reason. They have to be stored in the refrigerator. This recipe is much faster than others because the pickles aren't canned or processed.
Cooks Recipes http://recipe.cookswarehouse.com/
Google+