Pork Lettuce Wraps with Pineapple Salsa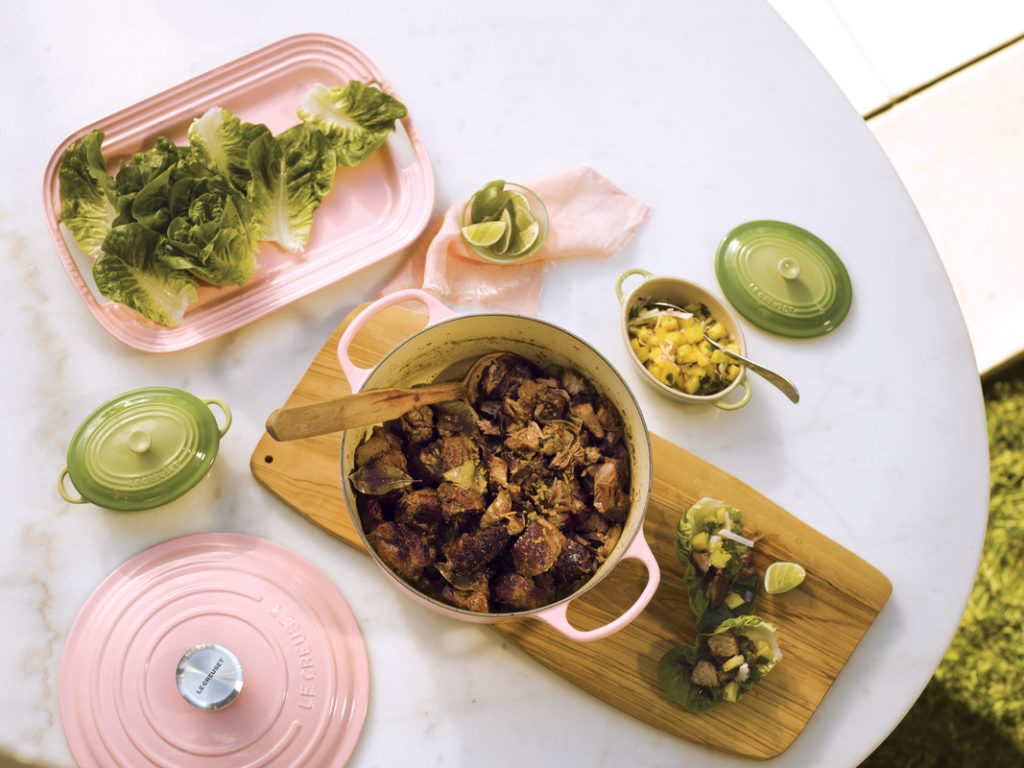 Pork Lettuce Wraps with Pineapple Salsa
2016-08-02 09:47:47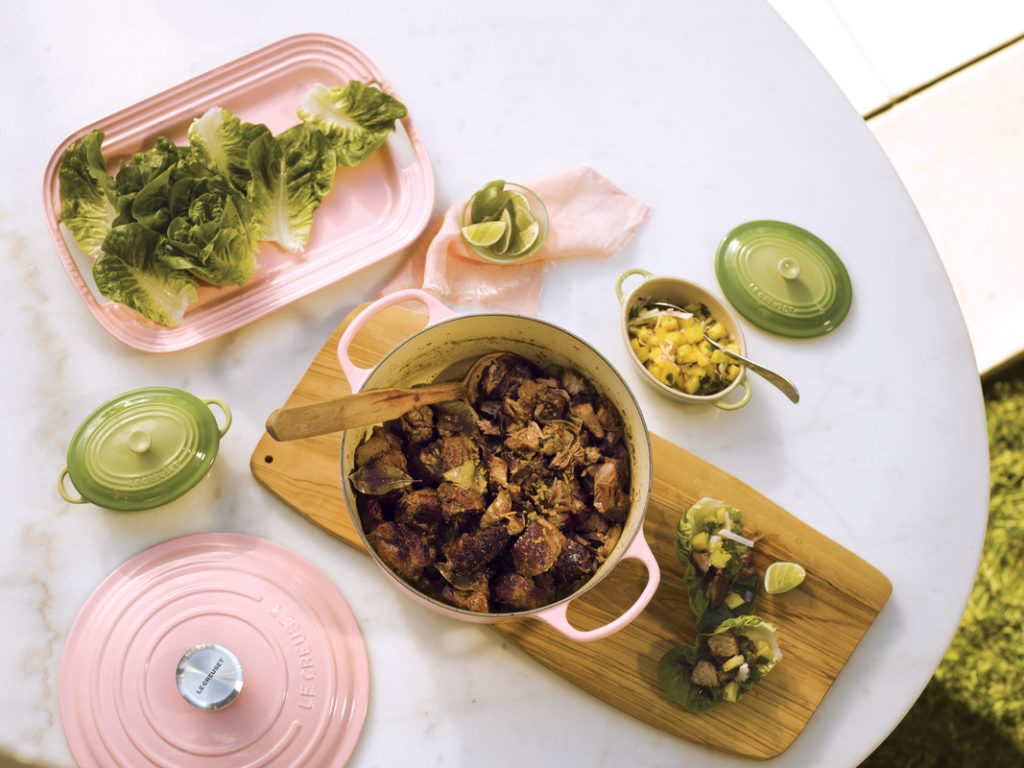 Serves 6
Try something new for dinner. These are easy to make and fun to eat!
For the wraps
4-pound pork shoulder with fat, cut into 1 1/2" cubes
2 tablespoons dark soy sauce
2 tablespoons light soy sauce
1 1/2 teaspoons five spice powder
1 yellow onion
2 bay leaves
4 cloves garlic, peeled
1 cinnamon stick
2 pods star anise
Zest of one orange
2 tablespoons sweetened condensed milk
1 tablespoon brown sugar
1/4 cup coconut oil
2 1/2 cups water
2 heads bibb or green leaf lettuce
For the Salsa
Salsa
1 pineapple, peeled, cored and diced
1 cup daikon radish, coarsely grated
1/2 red onion, diced small
1/2 Thai red chili, seeded and minced
1 cup cilantro leaves, chopped
Juice of one lime
Juice of one orange
Instructions
Toss pork with soy sauces and five spice powder. Cover and chill 30 minutes while prepping remaining ingredients.
Slice one small slit on the ouside of each onion half. Insert a bay leave into each slit, then stud each onion with two garlic cloves.
Add onion and remaining ingredients to a 5 1/2 qt. Dutch oven, along with the pork. Bring to a boil and skim the surface of any foam. Reduce the heat to a rapid simmer and cook, uncovered, for 2 hours, or until all the liquid is evaporated and the pork is cooking in melted fat. Remove from heat and let cool to room temperature. If making this recipe ahead of time, the pork can be refrigerated overnight at this stage.
For the salsa, combine all ingredients together. Season to taste with salt and pepper as needed. Cover and chill. Meanwhile, separate large leaves from the lettuce, then rinse and dry thoroughly.
Preheat oven to 400 F.
Lift the pork out of the Dutch oven with a wire skimmer or slotted spoon and place in a bowl. Discard the onion, spices and any other solids from the pot. Reserve 2 or 3 tablespoons of fat. Wipe out the pot.
Loosely shred the pork into large chunks. Return it, along with the reserved fat, to the Dutch oven. Cook 20 minutes or until well-browned. Remove from the oven and let cool slightly.
Assemble the wraps by topping lettuce leaves with the pork and salsa.
Notes
Recipe courtesy of Le Creuset America, © 2016
Cooks Recipes http://recipe.cookswarehouse.com/
Google+