Pimento Cheese with Green Olives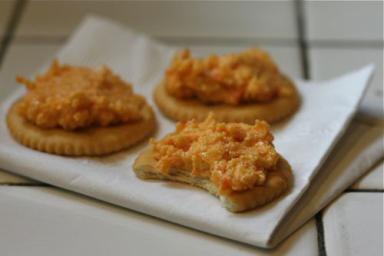 Pimento Cheese with Green Olives
2016-04-13 14:12:23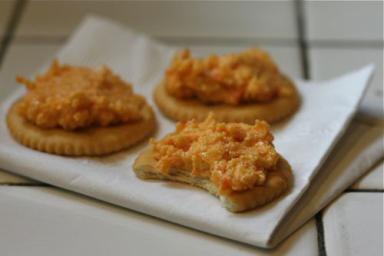 I roasted pimento peppers from my garden to make this cheese, but you can also just use the store-bought jarred pimentos. Look for them in the international foods or the olive aisle at your supermarket (you can also use homemade mayonnaise if you really want to show off). I think the brininess of green olives and a splash of hot pepper sauce (Southerners would recommend Tabasco) nicely offset the richness of the cheese and mayonnaise. Check out the list below for ideas on how to use your pimento cheese. Pimento cheese has an interesting history. Sometimes called "the pate of the South," it actually has its roots in the industrialized food era in New York and was originally made with cream cheese and jarred pimentos, two products newly available to homemakers. It became forever affiliated with the South when domestic pimento peppers become a big crop in southern Georgia. And it was Southern cooks who made the recipe what it is today, made with firm cheese and bound with mayonnaise. Regardless of its origin, we're just glad it exists!
Ingredients
1/3 cup chopped roasted pimento peppers or any mild roasted peppers (or 1 4-ounce jar of pimentos, drained)
1/4 cup pimento-stuffed green olives, drained
8 ounces sharp Cheddar cheese, cut into 1-inch cubes
8 ounces Colby cheese, cut into 1-inch cubes
2 Tablespoons mayonnaise, or more to taste
Hot sauce, such as Tabasco
Instructions
In the bowl of a food processor, combine the pimentos and the olives and pulse until they are finely chopped. Add the cubed cheese and pulse until cheese is broken down into small chunks, stopping periodically to scrape down the mixture from the sides of the bowl with a spatula.
Transfer the cheese mixture to a mixing bowl and use a wooden spoon or a spatula to stir in two tablespoons of mayonnaise, or more if you desire a looser, creamier consistency. Season the mixture to taste with Tabasco sauce or another hot sauce of your choice. Pimento cheese will keep, tightly covered and refrigerated, for a week to 10 days.
Notes
Pimento cheese makes a versatile condiment and can be used in so many ways: Here are some of our favorite ways to use it
• Serve it as an appetizer on crackers.
• Spread it into the hollow in celery sticks or dollop it onto endive leaves.
• Use it as a spread for hamburgers or sandwiches (makes an amazing grilled cheese sandwich).
• Stir it into scrambled eggs or fold it into an omelet.
• Stir it into cornmeal batter for corn muffins.
• Add it to meat loaf.
Courtesy of Jessica Goldbogen Harlan, a freelance food writer, trained chef, cookbook author, and the cooking equipment expert for about.com
Cooks Recipes http://recipe.cookswarehouse.com/
Cooking Equipment Needed: Chef's knife (One to try:
Victorinox Chef's Knife
), cutting board, measuring cups, kitchen scale, measuring spoons, food processor, spatula, mixing bowl, wooden spoon.
Google+