Marinated Mushrooms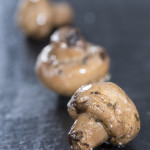 Marinated Mushrooms
2015-12-04 11:29:27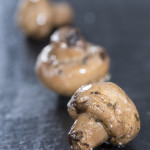 For holiday entertaining, it doesn't get much easier than these mushrooms! Easily held overnight and served at room temperature, this make-ahead appetizer is a party host's dream! This recipe comes to us from Pamela Sheldon Johns and her cookbook 50 Great Appetizers. Now a certified olive oil sommelier, Pamela returns to The Cook's Warehouse in February for an Olive Oil class and tasting.
Ingredients
1 pound white mushrooms, stemmed
2 cloves garlic, minced
1/3 cup white wine vinegar
1 cup extra virgin olive oil
salt, freshly ground pepper, and red pepper flakes
2 TBSP minced fresh flat-leaf parsley
Instructions
Cut the mushroom caps in half and put in a bowl.
Combine the garlic and vinegar in a small bowl. Gradually whisk in the olive oil. Season with salt, pepper and pepper flakes to taste.
Pour over the mushrooms and let stand at room temperature for 1 hour, or refrigerate for at lest 2 hours or as long as overnight.
Drain the mushrooms and place on a serving platter. Sprinkle with the parsley and serve at room temperature.
Notes
A glass of sparkling Prosecco accompanies a platter of these mushrooms very well. For a variation, add some cured black olives. The flavors will marry better if the mushrooms are refrigerated overnight.
50 Great Appetizers © 2008 by Pamela Sheldon Johns and Jennifer Barry Design. Published by Andrews McMeel
Adapted from 50 Great Appetizers
Adapted from 50 Great Appetizers
Cooks Recipes http://recipe.cookswarehouse.com/
Google+