Lemony Beet Dip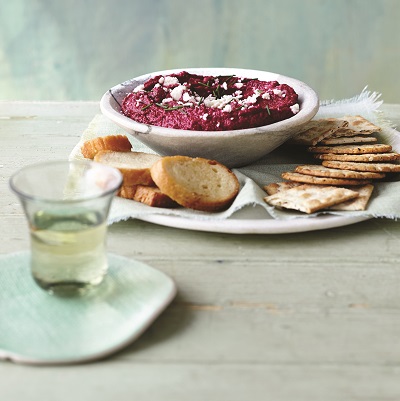 Lemony Beet Dip
2016-05-18 10:09:14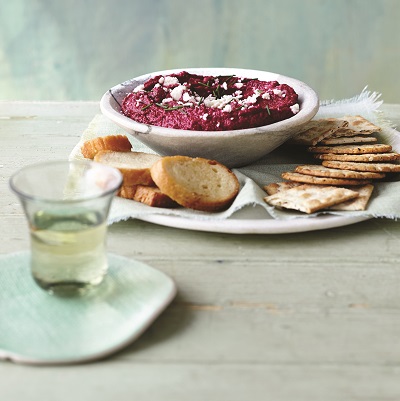 My family loves beets in red, yellow, pink, and any other color we can get our hands on. This bright red spread is a favorite of ours on pita chips and sliced celery. It's a refreshing change, in color and taste, from standard hummus. Try it with spinach and sweet onions on a tortilla for a colorful wrap for lunch.
Makes 2 cups
Ingredients
2 lb. beets with green tops
1 garlic clove
3⁄4 cup pecan halves
1⁄2 cup extra virgin olive oil
Zest of 1 lemon (about 2 tsp.)
1⁄4 cup fresh lemon juice
1⁄2 tsp. table salt
1⁄3 cup finely crumbled feta cheese
Garnish: chopped fresh chives
Crackers or crostini
Instructions
Preheat oven to 400°F. Remove tops from beets, reserve for another use. (Refer to page 26.) Wrap beets in heavy-duty aluminum foil, making sure to seal completely into a packet so steam can't escape. Roast at 400°F for 1 hour and 45 minutes or until soft. Cool to room temperature and slip off peeling. Cut beets into fourths.
Pulse garlic in a food processor until finely minced. Add pecans; pulse to finely chop. Add beets; pulse. Add olive oil and next 3 ingredients; process until smooth.
Transfer to a serving bowl or shallow dish. Top with 1⁄3 cup finely crumbled feta. Serve with crackers or crostini.
Notes
Excerpted from The Southern Vegetable Book: A Root-to-Stalk Guide to the South's Favorite Produce by Rebecca Lang. Copyright © 2016 Time Inc. Books. Reprinted with permission from Oxmoor House, an imprint of Time Inc. Books. All rights reserved.
Cooks Recipes http://recipe.cookswarehouse.com/
Google+