Hot Dog Sliders with Vidalia Peach Salsa and Sweet Chili Mustard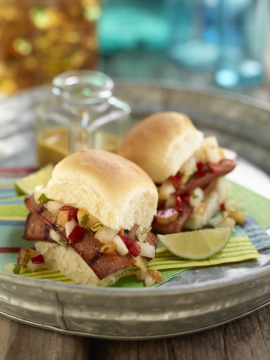 Hot Dog Sliders with Vidalia Peach Salsa and Sweet Chili Mustard
2017-05-16 09:39:56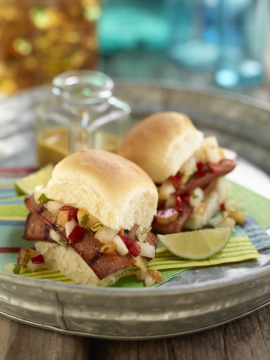 Serves 6
A fun spin on sliders, these hot dog sliders with Vidalia peach salsa and sweet mustard are sure to sweeten up your next barbecue!
Ingredients
1 small Vidalia onion, chopped
2 peaches, pitted and chopped
1 fresh red chili pepper, seeded and minced
1 tsp. lime juice
2 Tbsp. chopped cilantro
3 wieners
6 dinner or Hawaiian rolls
3 Tbsp. yellow mustard
1 Tbsp. honey
1 tsp. chili powder
Instructions
Preheat grill to medium-high heat. In a medium bowl combine Vidalia onion, peaches, chili pepper, lime juice and cilantro.
In a small bowl combine mustard, honey and chili powder.
Cut each wiener in half widthwise to create 6 mini wieners. Split each mini wiener in half lengthwise, not cutting all the way through.
Grill wieners over direct heat, flipping occasionally, until browned, 9-12 minutes.
Split rolls through the middle but not all the way through. Spread each bun with 2 teaspoons of mustard mixture. Top with a wiener, split side up. Fill the split in the wiener with Vidalia Peach Salsa.
Cooks Recipes http://recipe.cookswarehouse.com/
Google+