Grilled Wild Salmon with Avocado Salsa and Grated Egg Crouton Topper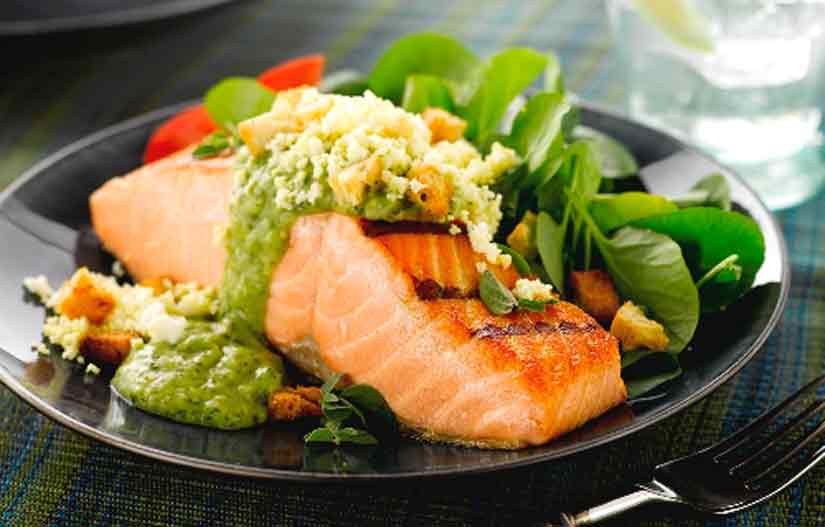 Grilled Wild Salmon with Avocado Salsa and Grated Egg Crouton Topper
2016-03-10 08:53:00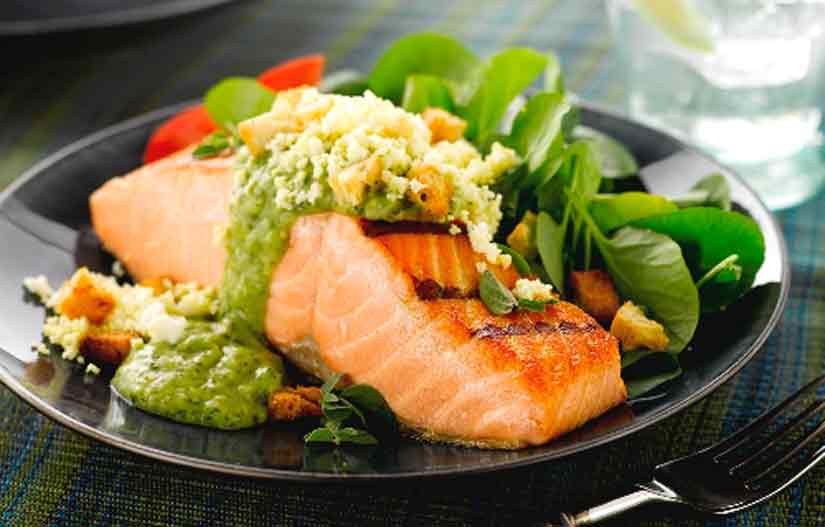 Salsa
1 lb. 8 oz. tomatillos (12 -14), papery husks removed
10 avocados (2 small), seeded and peeled
4 oz. (1/2 cup) extra-virgin olive oil
3 tbsp. rice vinegar
3 garlic cloves
1 tsp. cumin seeds, toasted and ground
2 oz. cilantro (1/2 bunch), leaves only
2 tsp. oregano
1/2 tsp. salt
1/4 tsp. fresh ground black pepper
Remaining Ingredients
1 1/2 cups country bread, cut in 1/4-inch cubes
Olive oil, as needed
Sea salt and pepper, as needed
12 (4-6 oz. each) wild king salmon fillets
1/4 cup tarragon leaves
1 lb. 5 oz. * eggs (12 large), hard-cooked and then grated
Directions for Salsa
Puree all ingredients in food processor or blend until smooth and liquid, but not thin.
Cover and refrigerate until served.
Remaining Directions
Heat oven to 375° F. Drizzle bread cubes with 1/4 cup olive oil; season with sea salt and pepper to taste.
Spread cubes on a baking sheet; bake 5 minutes until crisp and browned. Remove and reserve.
Brush salmon fillets with olive oil and season with sea salt and pepper. Grill over medium-high heat, 3-5 minutes per side, just until opaque throughout.
To serve, place a salmon fillet in the center of a plate, spoon on 2-3 tablespoons salsa, 1 teaspoon tarragon, 1/4 to 1/3 cup grated egg and 2 tablespoons croutons. Serve immediately.
Notes
©Copyright 2016, American Egg Board
Cooks Recipes http://recipe.cookswarehouse.com/
Google+