Grilled Sweet Potatoes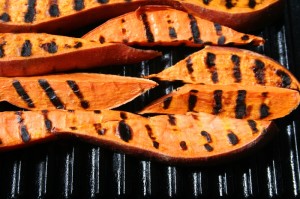 Grilled Sweet Potatoes
2014-05-22 09:16:09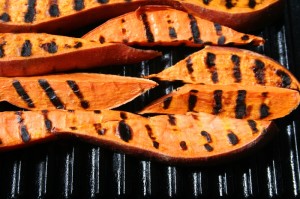 Serves 4
Vegetables on the grill are fantastic! Enjoy this tasty and healthy side dish from Chef Megan McCarthy of Healthy Eating 101. Like Megan's style? Check out her upcoming classes to learn more about her seasonal, healthy approach to enjoying food!
Ingredients
4 medium sweet potatoes
Water to cover
3 tablespoons extra virgin olive oil
½ teaspoon sea salt or Spike seasoning
Instructions
Preheat grill to 400◦
Wash and cut sweet potatoes lengthwise into long wedges, leaving skins on
In large pot, add cold water to cover sweet potatoes and bring to a boil
Simmer for 3-4 minutes or until potatoes start to soften. Drain
Transfer wedges to large mixing bowl and drizzle with olive oil and season with sea salt and gently toss
Arrange sweet potato wedges on grill or grill pan and cook about 10 minutes or until desired doneness
Notes
Spike Seasoning is a natural, all-purpose seasoning with 39 different spices. Find it on the spice aisle in your favorite grocery store.
Adapted from Recipe by Healthy Eating 101
Adapted from Recipe by Healthy Eating 101
Cooks Recipes http://recipe.cookswarehouse.com/
Google+