Gnocchi with Basil Pesto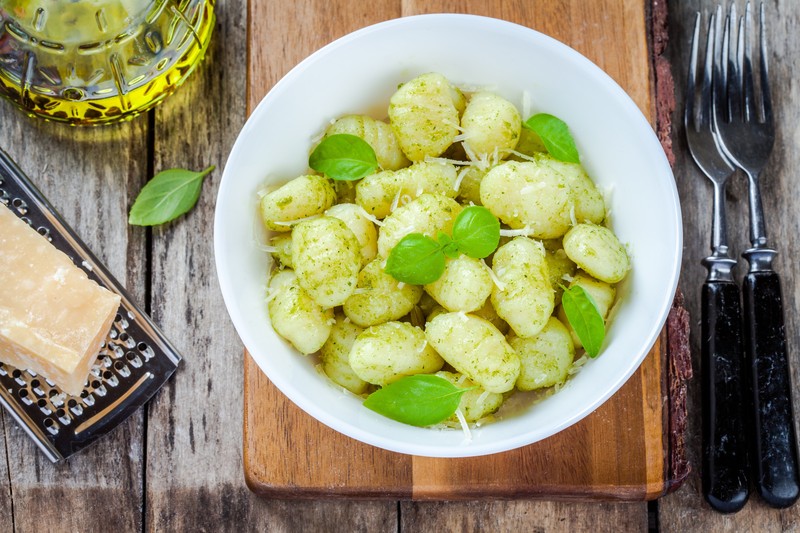 Gnocchi with Basil Pesto
2016-04-27 13:49:21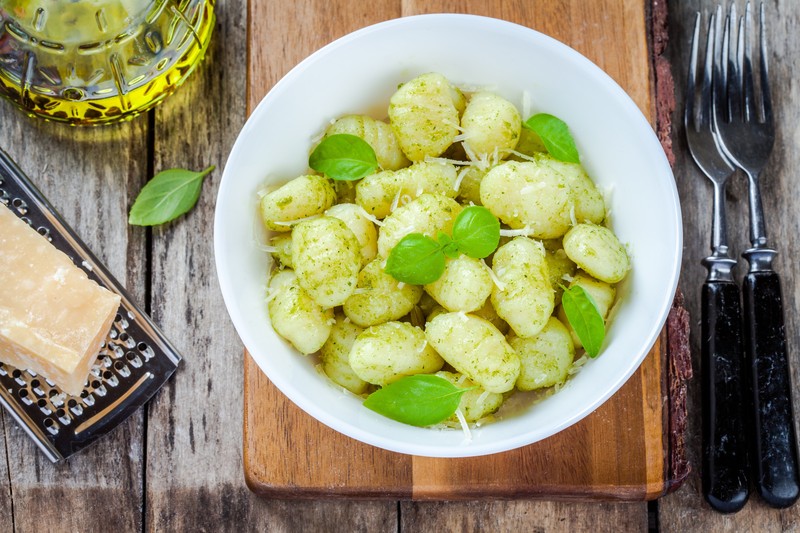 Ingredients
1 pound (454 g) russet potatoes, peeled, washed, and halved or quartered
Salt and freshly ground pepper, to taste, divided use
Nutmeg, to taste
1 large egg, beaten
1-1 1/3 cups (125-170 g) all-purpose flour, as needed
Pesto
4 garlic cloves, peeled
1/2 cup (120 ml) olive oil
4 cups (80 g) basil leaves, cleaned and dried (about 4 bunches)
2 cups (40 g) Italian parsley leaves, cleaned and dried (about 1 bunch)
1/4 cup (35 g) toasted pine nuts
1/4 cup (36 g) freshly grated Parmesan cheese
1/4 cup (36 g) freshly grated Pecorino Romano cheese
Instructions
To make the gnocchi, place the potatoes in a large pot, cover with water, add a teaspoon of salt, and bring to a boil. Reduce the heat and simmer until tender, about 25 minutes. Drain and return to the pot. Heat over low heat, stirring to prevent browning, until the potatoes are completely dry.
Mash the potatoes with a ricer or through a food mill and season to taste with salt, pepper, and a little nutmeg. Set aside to cool completely.
Add the egg to the potatoes, and gently mix in 1 cup of the flour. Do not overwork the dough or the gnocchi will be tough. If the dough is very sticky, gently stir in more flour. Taste and adjust seasonings.
Using your hands, roll out pieces of the dough into ropes about 1 inch in diameter. Cut the long cylinders into 2-inch pieces. With gentle pressure, roll the dough pieces over a gnocchi board, or over the tines of a fork, pressing and rocking the dumpling with your thumb, to achieve a ridged edge on one side and an indentation on the other. Set the gnocchi aside on parchment-covered baking sheets while you make the pesto.
To make the pesto, place garlic cloves into the Vitamix container and secure lid.
Select Variable 8.
Use the On/Off switch to quickly pulse until coarsely chopped. Scrape down the sides of the container.
Add the oil, basil, parsley, and pine nuts. Secure lid.
Select Variable 1.
Turn machine on and slowly increase speed to Variable 6, using the tamper to press the ingredients into the blades until finely chopped.
Stop the machine, scrape down the sides of the container and add the cheeses.
Select Variable 1.
Turn machine on and slowly increase speed to Variable 6.
Blend until you have achieved a smooth paste. Season to taste with salt & pepper. Pour into a bowl.
Bring a pot or large saucepan full of generously salted water to a boil. Meanwhile, heat 6 heaping tablespoons of the pesto in a large frying pan over medium-low heat.
Drop the gnocchi into the boiling salted water and cook until they rise to the surface, about 2 to 3 minutes. Remove from the water with a slotted spoon and transfer to the frying pan, along with ¾ cup of the gnocchi cooking water.
Coat the gnocchi with the pesto, transfer to warm plates or a platter, and serve immediately.
Chef's Tip
Gnocchi is a great appetizer for an Italian feast, but it's also a filling side dish when paired with grilled meats, fish, or vegetables.
This recipe has been written for the C-Series machines with Variable Speed control and Standard 64-ounce container. If you are using a different Vitamix machine or container size, you may need to make adjustments to the Variable Speed, processing time, and/or ingredient quantities.
Cooks Recipes http://recipe.cookswarehouse.com/
Recipe courtesy of Vitamix, as provided by The Culinary Institute of America. ©2016
Google+