Cucumber Noodle Salad with Feta, Arugula and Red Wine Vinaigrette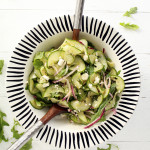 Cucumber Noodle Salad with Feta, Arugula and Red Wine Vinaigrette
2015-09-11 11:13:07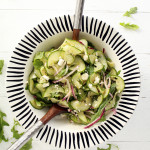 Continue to enjoy the flavors of summer with this refreshing salad! It tastes amazing and refrigerates very well. Toss it with some chilled shrimp, chicken or add some chickpeas and you've got a light lunch.
Vinaigrette
2 tbsp olive oil
¼ cup red wine vinegar
1 tbsp lemon juice
½ tsp oregano
salt and pepper, to taste
1 tsp honey (optional)
Salad
1 large cucumber, Blade A
1 cup packed baby arugula
½ onion, Blade C
¼ cup crumbled feta cheese
Instructions
Place all of the ingredients for the vinaigrette into a bowl and whisk together. Set aside.
Place the cucumber noodles on top of two sheets of paper towels. On top, place another two sheets. Lightly press down onto the noodles to absorb the moisture. Pat dry and then place in a bowl.
Add the baby arugula and onion to the cucumber noodles and toss to combine. Then, add in the vinaigrette and toss again to combine. Add in the feta, lightly toss and transfer to a serving bowl or platter.
Enjoy
Notes
© Copyright 2015 Clarkson Potter, Inspiralized, LLC and Ali Maffucci, from "Inspiralized: Turn Veggies Into Healthy, Creative, Satisfying Meals".
Copies are available in-store at The Cook's Warehouse.
Adapted from Inspiralized: Turn Veggies Into Healthy, Creative, Satisfying Meals
Adapted from Inspiralized: Turn Veggies Into Healthy, Creative, Satisfying Meals
Cooks Recipes http://recipe.cookswarehouse.com/
Google+