Ceviche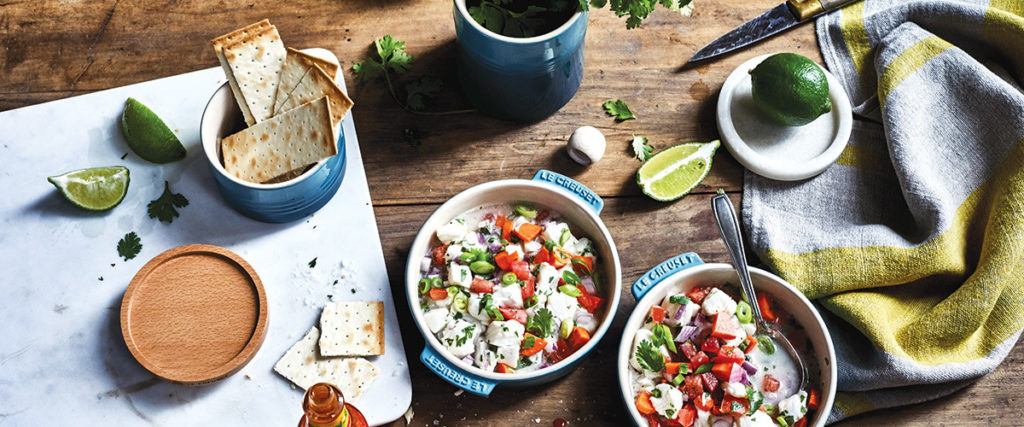 Baja-style Ceviche with Lime, Cilantro and Coconut Milk
2017-07-31 12:54:02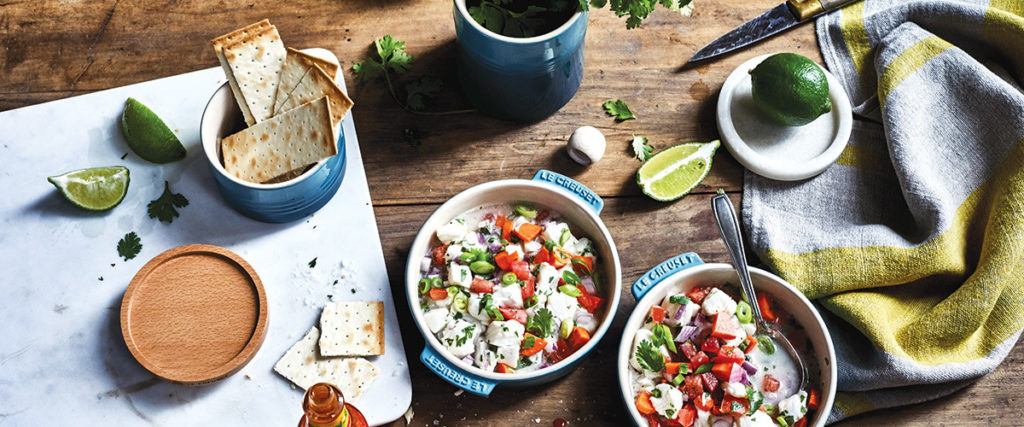 Ingredients
1 1/4 pounds halibut (or other meaty white fish), skinned, de-boned and cut into 3/4-inch cubes
1/2 cup freshly squeezed lime juice
1 cup carrots, cut into 1/4-inch dice
1 cup tomato, seeded and cut into 1/4-inch dice
1 cup red onion, diced
1 jalapeno, seeded and diced
2 tablespoons chopped cilantro, plus leaves for garnish
7 fl. oz. full-fat coconut milk
1 green onion, sliced on the bias into 1/4-inch pieces
Sea salt
Instructions
In a large mixing bowl, combine halibut and lime juice. Refrigerate and let marinate 10-20 minutes.
After marinating, add carrots, tomato, red onion, jalapeno, cilantro and coconut milk. Stir gently to combine and season to taste with sea salt. Serve in tapas dishes, garnished with cilantro leaves and green onion. Serve with crackers and hot sauce.
Notes
Serves 2 - 4
© 2017 LE CREUSET. All rights reserved.
Cooks Recipes http://recipe.cookswarehouse.com/
Mexican Shrimp "Ceviche" Cocktail
2014-02-20 12:38:43
Serves 2
Shrimp
• 4 ounces small peeled, deveined shrimp
• Kosher salt
• 1 lime
• 1 tablespoon chopped onion, soaked in cold water for 5 minutes and drained
• 1 tablespoon chopped English cucumber
• 1/2 small tomato, seeded and diced (about 2 tablespoons)
• 1 teaspoon chopped cilantro, plus additional whole sprigs for garnish
• 1/4 avocado, chopped
Sauce
• 1/4 cup Clamato or other tomato-clam juice
• 2 tablespoons ketchup
• 1 tablespoon (or more) Mexican hot sauce such as Valentina or Cholula
• 2 tablespoons olive oil
• 1/8 teaspoon cumin (or to taste)
• Pinch kosher salt
Instructions
Bring a small pot of water (about 1 quart) to a simmer with 1-1/ 2 teaspoons of kosher salt and the juice of half of the lime. Add the shrimp and cook, stirring, for 30 seconds or so (1 minute if you're using larger shrimp), just until shrimp are turning opaque. They should be almost but not quite cooked through -- the shrimp will continue to cook as they cool. Drain and place in a bowl. Toss with remaining lime juice and refrigerate for 20 minutes or more.
Meanwhile, make the sauce: place the Clamato, ketchup and hot sauce in a small bowl and whisk until blended. Slowly pour in the oil, while continuing to whisk, until oil is incorporated. Mix in the cumin and a pinch of kosher salt. Taste for seasoning and adjust, adding more salt or hot sauce to taste.
Remove the shrimp from the refrigerator. If using larger shrimp, cut them into two or three pieces.
Toss the cooled shrimp (including lime juice) with the vegetables and cilantro. Pour the sauce over, toss again, and taste for seasoning. You can do this ahead of time, but if so, don't add the avocado until right before serving. Garnish with a cilantro sprig.
Notes
This Mexican-inspired shrimp cocktail, based on a recipe by Rick Bayliss, is not a true ceviche -- instead, the shrimp are lightly poached in lime-infused water and marinated in lime juice while they cool. For this cocktail, try to find small shrimp (50 count is ideal), but if you can't find small raw shrimp, use a larger size and cut into smaller pieces. Tip: Since the shrimp are not chilled immediately after cooking, remove them from the cooking liquid before they're completely done. They'll finish cooking while they cool in the lime juice.
Cooks Recipes http://recipe.cookswarehouse.com/