Butternut Squash – Apple Puree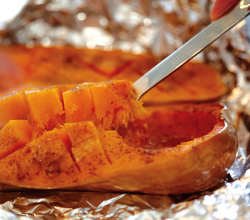 Butternut Squash Apple Puree
2014-02-20 11:57:13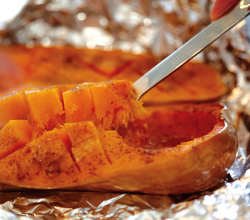 Ingredients
• 3 1/2 pounds (1 large) butternut squash, cut lengthwise in half
• Coarse salt
• Whole nutmeg
• 1 allspice berry
• 1 clove
• 2 tablespoons unsalted butter
• 5 medium granny smith apples (about 5 ounces each)
• 2 tablespoons chopped shallots
• 1 teaspoon granulated sugar
• 2 tablespoons pure maple syrup
• 1/2 teaspoon apple cider vinegar
• Coarse salt
• Freshly ground black pepper
Instructions
Preheat the oven to 350°F.
Scrape away and discard the seeds and membranes from the squash. Score the neck in a crosshatch, at 1/2-inch intervals, about 1/2 inch deep.
Line a baking sheet with a piece of aluminum foil large enough to form a packet around the squash. Lay the squash on the foil, flesh side up, and sprinkle with the salt. Grate the spices over the top, using about 1/4 of the nutmeg, the whole allspice berry and the whole clove. Cut 1 tablespoon of the butter into small pieces and divide over the neck of each squash half.
Bring up the two long sides of the foil and crimp to close the top. Leave the short sides open for steam to escape as the squash bakes. Place in the oven to roast until completely tender, about 2 hours.
Meanwhile, for the apple puree: Peel the apples, cut in half lengthwise, and remove the stem and cores. Cut the apples into 3/4-inch pieces and place in a saucepan with the shallots, the remaining 1 tablespoon of butter, a pinch of salt, and the sugar. Cut a parchment lid (a round of parchment paper with a half inch circle cut from the center) and place over the apples.
Cook over low to medium low heat and for about 60 minutes, stirring from time to time and lowering the heat as necessary to avoid scorching the apples. The apples should be completely softened.
Set up a food mill with the fine disc and place over a medium saucepan. Scoop the squash (discarding the skin) and apples into the food mill and puree. Place the pan over medium heat and stir in the maple syrup, cider vinegar, and a grating of nutmeg. Season with salt and pepper to taste.
Adapted from All-Clad
Adapted from All-Clad
Cooks Recipes http://recipe.cookswarehouse.com/
Google+