Beef Tenderloin with Shallot Congnac Sauce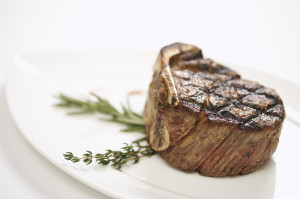 Beef Tenderloin with Cognac Sauce
2013-10-29 11:53:27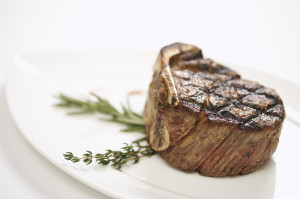 Serves 6
Ingredients
1 beef tenderloin, large enough for your group – approx 6-8oz. per person
1 cup Worcestershire sauce
½ cup soy sauce
½ cup Dijon mustard (preferably Maille brand)
2 – 3 springs fresh rosemary, stemmed and chopped
5 cloves garlic, minced
2 tbsp. olive oil
½ cup chicken broth
1/3 cup butter, unsalted
1 ½ tbsp. Dijon mustard
½ cup shallots, finely chopped
Sea salt to taste
5 tbsp. cognac
2 Tbsp. parsley, finely chopped
¾ cup red wine
Instructions
Trim the tenderloin of all fat and silver skin. Place in a large size zip lock bag.
In a medium size bowl whisk together Worcestershire, soy, and Dijon, stir in the rosemary and garlic. Pour the marinade into the zip lock with the tenderloin, seal, and place in the refrigerator to marinate for 30 min to 1 hour.
Pre-heat oven to 400*.
After tenderloin has marinated, heat a sauté pan on high until warm, add olive oil, heat until it just begins to smoke.
Place tenderloin in the sauté pan and sear on all sides.
Remove to a baking sheet and finish in the oven until desired temperature, approx 30 min for a 2-3lb tenderloin, 45-55 min for a 3-5lb tenderloin. Note* ovens vary so it is always important to use a good meat thermometer to achieve the perfect temperature.
Drain the fat from the sauté pan and melt 1 tablespoon of the butter over medium heat.
Add the shallots and cook, stirring, until wilted, but not brown.
Add the cognac and ignite by tipping the sauté pan to bring the liquor into contact with flames from the gas burner, or ignite with a match (it is not necessary to flame the pan).
Add red wine and cook, scraping the bottom and sides of the pan to loosen the fond. Continue to cook the sauce over high heat until reduced by more than half.
Add the chicken broth, the mustard, and any juices that have accumulated around the beef, and combine well, reduce again.
Swirl in the remaining butter and season with salt to taste. Do not return the sauce to a boil once the butter has been added.
Cut the tenderloin on the bias and fan onto a heated plate or platter. Spoon the sauce over and around the meat and sprinkle with chopped parsley.
Cooks Recipes http://recipe.cookswarehouse.com/
Google+