Asparagus Frittata with Tomato Chutney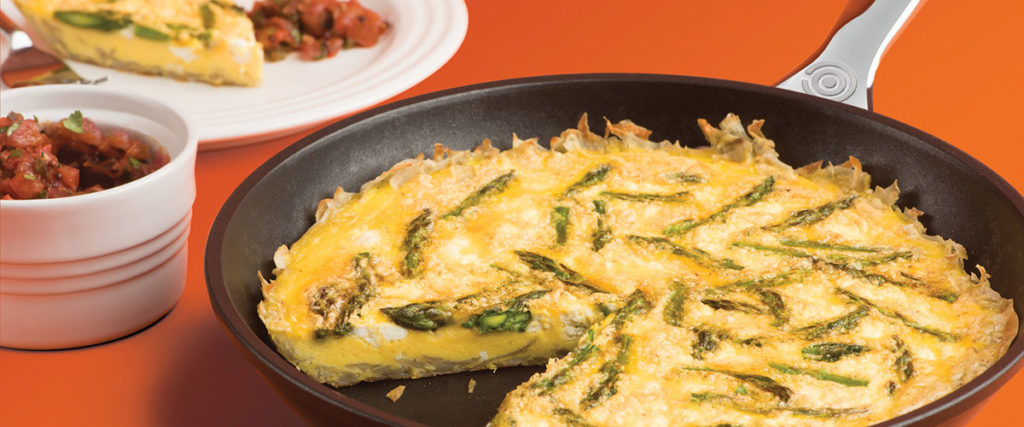 Asparagus Frittata with Tomato Chutney
2017-06-07 16:05:24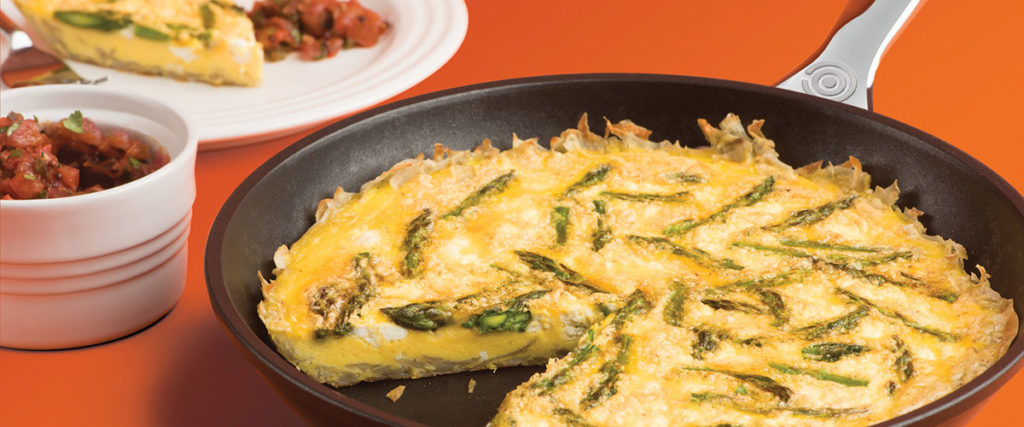 Perfect for spring and summer brunch!
Frittata
1 bunch asparagus
2 teaspoons olive oil, divided
2 cups grated russet potato (about one large potato)
1/2 teaspoon kosher salt, divided
1/4 teaspoon freshly ground black pepper, divided
8 large eggs
1/4 cup half-and-half
Pinch freshly grated nutmeg
1/4 cup goat cheese
Chutney
2 tablespoons vegetable oil
1/4 cup diced red onion
1 poblano pepper, diced
2 teaspoons black mustard seeds
2 cloves garlic, minced
5 Roma tomatoes, diced
1/2 teaspoon salt
Pinch freshly ground black pepper
1 tablespoon brown sugar
1 tablespoon red wine vinegar
1/4 teaspoon smoked paprika
1 tablespoon chopped fresh cilantro or parsley
Instructions
Preheat oven to 350 F.
Trim asparagus about halfway up the stalks; reserve the bottom halves for soup or another suitable recipe. Cut the tops into 1-inch pieces. Heat 1/2 teaspoon oil in a Le Creuset nonstick fry pan over medium heat. Add asparagus and toss until just tender, about 4 minutes. Remove to a plate.
Put the grated potato in the center of a dish towel, then twist and press to remove as much liquid as possible. With the fry pan still set over medium heat, add remaining olive oil. Press the grated potatoes in one even layer over the bottom of the pan and up the sides. A cup measure or spatula will help with this. Season with a pinch of salt and pepper, then cook until browned on the bottom, about 6 minutes.
Beat eggs with half-and-half, nutmeg and remaining salt and pepper. Pour half of the egg mixture over the potato crust. Add goat cheese and asparagus, then pour the remaining eggs over the top. Place the pan in the oven and bake 20 to 25 minutes until the eggs are just set.
While the frittata is cooking, make the chutney. Heat oil in a nonstick fry pan set over medium heat. Add onion and poblano pepper and cook until soft. Stir in mustard seeds and garlic, cooking until fragrant, about 1 minute. Add tomatoes, salt and pepper and cook until the tomatoes start to break down and release their juices. Stir in brown sugar, vinegar and paprika. Reduce heat to medium-low and cook to a jammy consistency, about 5 to 8 more minutes. Remove to a bowl and set aside until ready to use. Stir in herbs just before serving.
Notes
© 2017 LE CREUSET. All rights reserved.
Cooks Recipes http://recipe.cookswarehouse.com/
Google+