Tuscan Tomato White Bean Soup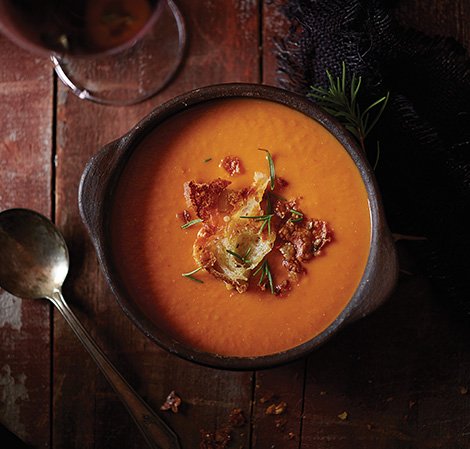 Tuscan Tomato White Bean Soup
2017-01-04 12:24:23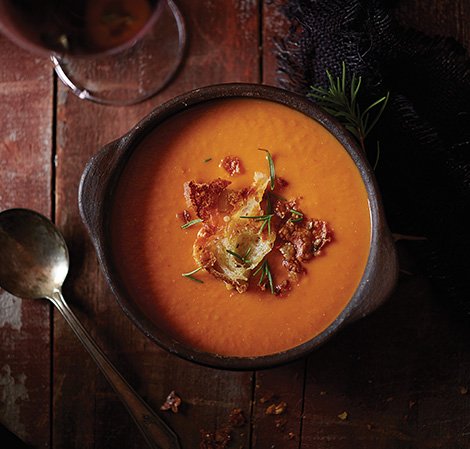 Ingredients
3 Tablespoons (45 ml) extra virgin olive oil
1 large onion, peeled, chopped
5 garlic cloves, peeled, roasted
Salt, to taste
2 Tablespoons (30 ml) tomato paste
2 pounds (908 g) Roma tomatoes, quartered
2 (15 ounce) (425 g) cans white beans, drained, rinsed
4 cups (960 ml) vegetable broth or chicken broth
1 cup (240 ml) water
1 sprig rosemary plus 1 teaspoon chopped leaves
¼ teaspoon crushed red pepper flakes
4 cups cubed ciabatta bread, about 4 ounces (114 g)
2 ounces (55 g) shredded mozzarella cheese
Instructions
Heat 1 tablespoon of the oil in a large pot or Dutch oven over medium-high heat. Add the onion, garlic, and a pinch of salt. Cook, stirring occasionally, until the onion is softened, about 5 minutes. Add the tomato paste and cook for 1 minute. Add the tomatoes, beans, broth, water, rosemary sprig, and red pepper flakes. Bring to a boil. Reduce the heat to medium and simmer for 20 minutes.
Discard the rosemary sprig. Working in batches, carefully ladle the stovetop soup into the container of your Vitamix and secure lid.
Select Variable 1.
Turn machine on and slowly increase speed to Variable 10, then to High.
Blend for 20 seconds or until desired consistency is reached. Pour into a pot to keep warm. Repeat with leftover soup from the stovetop.
Preheat the oven to 400°F (200°C). Place the bread cubes on a baking sheet, drizzle with remaining olive oil, and sprinkle with chopped rosemary and shredded mozzarella.
Bake until croutons are golden brown, about 10 to 15 minutes.
Top each bowl of soup with the croutons and serve.
This recipe has been written for the C-Series machines with Variable Speed control and Standard 64-ounce container. If you are using a different Vitamix machine or container size, you may need to make adjustments to the Variable Speed, processing time, and/or ingredient quantities.
Notes
© 2017 Vita-Mix Corporation
Adapted from Vitamix
Adapted from Vitamix
Cooks Recipes http://recipe.cookswarehouse.com/
Google+