Tag Archives:
Zucchini Noodles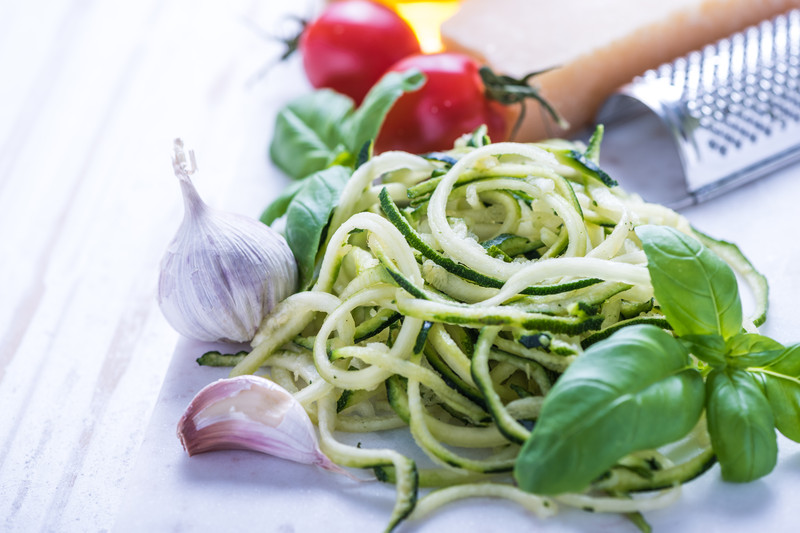 Zucchini "Pasta" with Fast Tomato Sauce
2016-05-18 10:27:16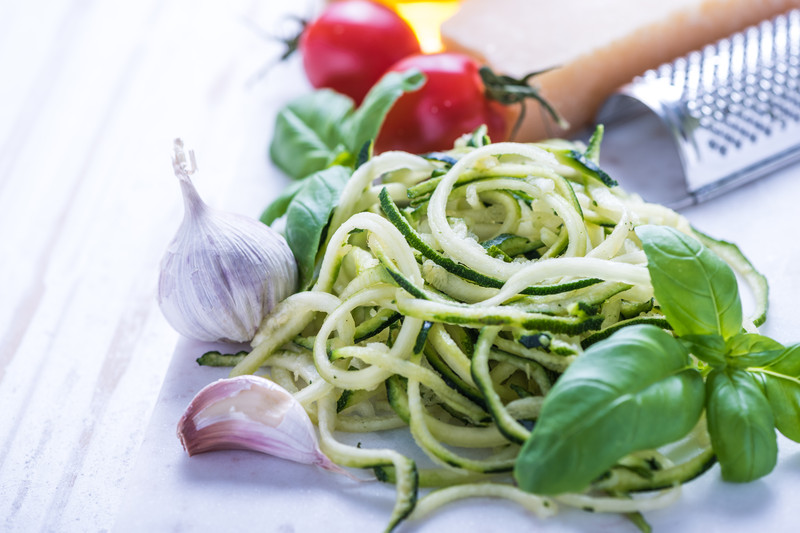 Serves 4
This tomato sauce is among the most basic and useful all-purpose sauces and one that's too easy not to make yourself. The main recipe uses basic pantry ingredients and is familiar to just about everyone, and the variations show you a range of possible directions to take it. I suggest making double or triple batches of this sauce and freezing some. Prepare the recipe through Step 2, then let the sauce cool, pack it away in freezer bags or tightly sealed containers (small quantities are most useful), freeze, and use within 6 months or so. You can defrost it slowly in the fridge, faster in the microwave, or heat it gently in a covered pan, stirring occasionally to prevent sticking.
Ingredients
3 tablespoons extra virgin olive oil or butter
1 medium onion, chopped
1 ½ to 2 pounds canned tomatoes, drained and chopped
Salt and freshly ground black pepper
3 medium zucchini, spiralized with the green blade
Freshly grated Parmesan or other cheese, to taste (optional)
Chopped fresh parsley or basil leaves for garnish (optional)
Instructions
Put the olive oil or butter in a 10- or 12-inch skillet over medium-high heat. When the oil is hot or the butter is melted, add the onion and cook, stirring occasionally, until soft, 2 or 3 minutes. Add the tomatoes and a sprinkling of salt and pepper.
Cook, stirring occasionally, until the tomatoes break down and the mixture comes together and thickens, 10 to 15 minutes.
Notes
VARIATIONS
Fresh Tomato Sauce
A superb option and useful for all the variations, but only for a couple of months a year (I like this very much with butter): Substitute chopped fresh ripe tomatoes (preferably peeled and seeded, about 2 cups) for the canned. Cooking time will be about the same. Garnish with lots of Parmesan or chopped parsley or basil.
Garlicky Tomato Sauce
Omit the onion. Lightly crush and peel 2 to 10 (or even more) cloves garlic; cook in the oil or butter over medium-low heat, turning occasionally, until golden brown, about 5 minutes. Raise the heat, add the tomatoes, and cook as directed. Garnish with parsley or basil.
Spicy Tomato Sauce
Known as arrabbiata, this is one of those rare dishes in which garlic is actually browned intentionally; still, don't overcook it. Omit the onion; put about 1 tablespoon chopped garlic in the oil along with 3 to 5 (to 10, for that matter) small dried red chilies. Cook, stirring, until the garlic is brown. Then, turn off the heat for a minute, add the tomatoes, and resume cooking. Remove the chilies before serving if you like. Garnish with parsley or basil.
ABOUT THE BOOK
Mark Bittman's How to Cook Everything ® has helped countless people discover the rewards of simple cooking with 2,000 recipes and variations, straightforward advice, and essential techniques that make it an indispensable companion for every kitchen.
ABOUT THE AUTHOR
Mark Bittman, one of America's most influential and widely respected food writers, is the author of more than a dozen cookbooks, including the award-winning, best-selling How to Cook Everything® series.
Adapted from How to Cook Everything® by Mark Bittman
Adapted from How to Cook Everything® by Mark Bittman
Cooks Recipes http://recipe.cookswarehouse.com/