Tag Archives:
Watermelon
Watermelon Salad
2015-05-20 13:01:26
This recipe celebrates summer with juicy sweet watermelon, crisp watercress, and a French inspired vinaigrette.
Ingredients
3 tablespoons sesame seeds
6 cups seeded watermelon cubes, about 1- inch in size
1/4 cup Italian parsley leaves
1/2 cup scallions, sliced
1/2 cup fresh chervil tops
1-1 ½ cups Apple Cider Vinaigrette
6 cups watercress leaves (about 1 large bunch)
Instructions
In a small dry sauté pan, toast the sesame seeds until they are a golden brown. Remove from heat and reserve for later.
In a large bowl, toss half of the sesame seeds, the watermelon, parsley, scallions, and chervil with the Apple Cider Vinaigrette.
Divide the watercress between 6 chilled salad plates and place the watermelon salad on top.
Sprinkle with the reserved sesame seeds and serve immediately.
Notes
Photo and Recipe © Deborah Whitlaw Llewellyn
Cooks Recipes http://recipe.cookswarehouse.com/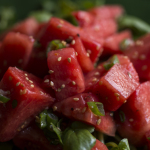 Apple Cider Vinaigrette
2015-05-20 13:03:35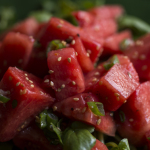 Ingredients
3 shallots, minced
1 garlic clove, minced
2 teaspoons grained Dijon mustard
1 teaspoon honey, or to taste
1/3 cup apple cider vinegar
1 tablespoon fresh orange juice
1 tablespoon fresh lemon juice
1 tablespoon fresh lime juice
1 cup extra virgin olive oil
Sea salt, to taste
Fresh ground black pepper, to taste
Instructions
In a small bowl, combine the shallots, garlic, mustard, honey, vinegar, and fruit juices.
Whisk in the oil by slowly pouring it into the bowl in a steady stream. The vinaigrette should be thick. If oil has settled on the top-continue to whisk until well combined.
Adjust with salt and pepper to taste and additional honey if too tart.
Notes
Photo and Recipe © Deborah Whitlaw Llewellyn
Cooks Recipes http://recipe.cookswarehouse.com/