Tag Archives:
Vidalia Onion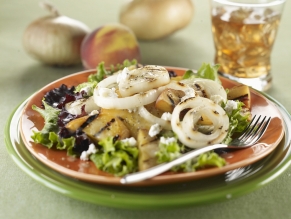 Grilled RealSweet® Vidalia® Onion and Peach Salad
2014-05-29 10:53:24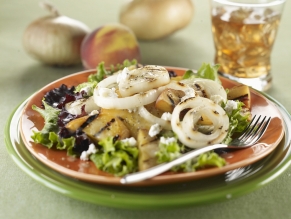 Serves 1
You may have heard the phrase "if it grows together, it goes together". This means that foods that are grown in the same season and region often create a great flavor combination. This recipe applies that rule of thumb by incorporating peaches and Vidalia onions, two homegrown favorites that are both coming into their peak season, as well as spinach, which is still available at many area farmers markets. Who says "BBQ" has to include meat? Bring out the natural sweetness in these ingredients when you prepare them over an open flame!
Ingredients
1 RealSweet® Vidalia® onion, sliced into 1/2 inch rings
1 pkg. (6 oz.) Baby spinach
1 Peach, sliced in half
¼ C. Goat cheese, crumbled
Vinaigrette salad dressing, amount as desired
Instructions
Brush sliced RealSweet® Vidalia® onions with olive oil and season with salt and pepper.
Grill onion slices and peaches over medium-high heat until tender, about 4 minutes per side. Thinly slice peaches.
Toss together baby spinach, peaches and RealSweet® Vidalia® onions.
Top with goat cheese and drizzle with your favorite vinaigrette salad dressing.
Cooks Recipes http://recipe.cookswarehouse.com/