Tag Archives:
vegetable casserole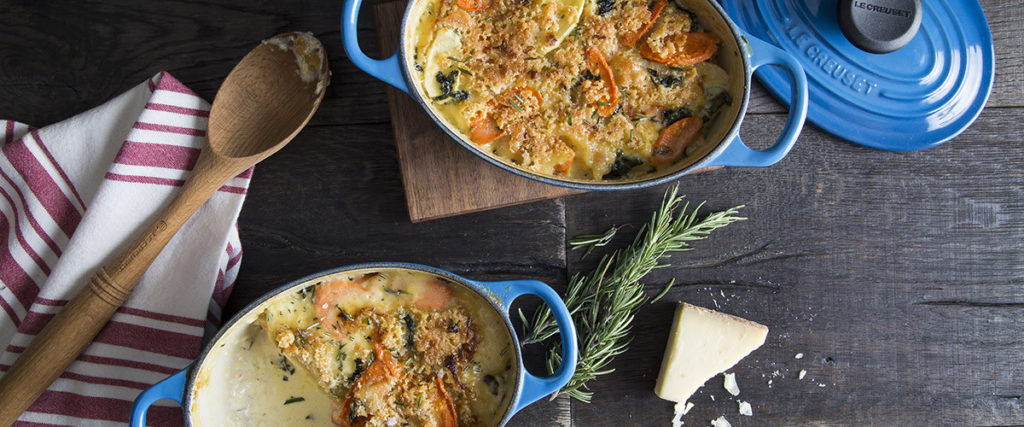 Parsnip and Carrot Gratin
2017-04-05 10:28:38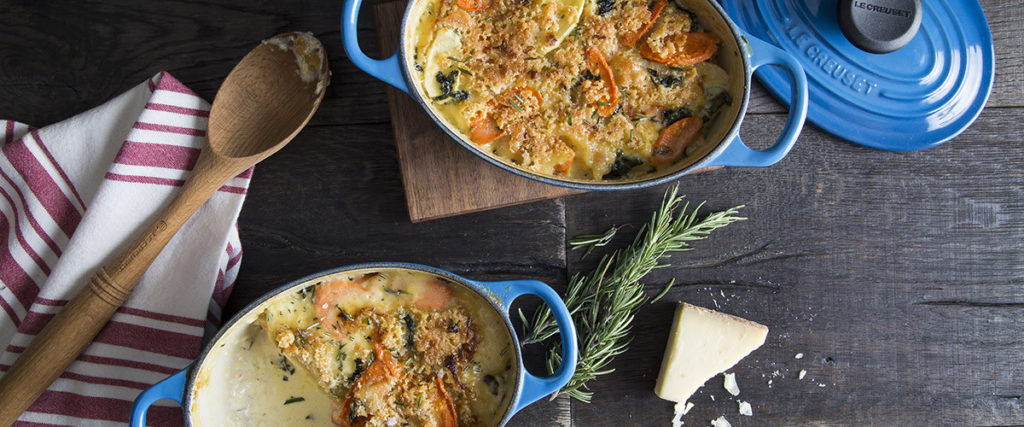 Ingredients
1 1/4 cups sliced parsnips
1 1/4 cups sliced carrots
1 cup shredded kale, loosely packed
1 clove garlic, minced
1/2 teaspoon kosher salt
1/8 teaspoon fresh black pepper
2 teaspoons chopped fresh rosemary
1 teaspoon olive oil
1 cup heavy cream
1 tablespoon Dijon mustard
Butter for greasing the pans
3/4 cup grated Gruyere cheese
2 tablespoons butter
2 tablespoons almond meal
Instructions
Preheat oven to 375 F.
Wash and peel parsnips and carrots. Slice on the bias into 1/8-inch-thick oval slices. Remove stems from kale leaves and shred finely. In a medium bowl, toss together parsnips, carrots, kale, garlic, salt, pepper, rosemary, and olive oil.
Heat cream in a small saucepan until hot but not simmering. Whisk in the mustard.
Butter the insides of two Le Creuset 1-quart Oval Dutch ovens. Layer 1/2 cup of the vegetable mixture into the bottom of each pan, then sprinkle over 2 1/2 tablespoons of Gruyere cheese. Repeat twice more in each pan, reserving the cheese from the top layer.
Pour warm cream into each pan until it comes about 3/4 of the way up the sides. Cover with lids and bake 30 minutes. (The gratins can be made ahead up to this point. Cool to room temperature and store in the refrigerator. Warm to room temperature before heating in the oven.)
In a small bowl, combine butter and almond meal. Remove the gratins from the oven and remove the lids. Gently press down the tops of the gratins with a spatula. Dot with the almond and butter mixture and sprinkle over the remaining cheese.
Return to the oven, uncovered, and bake 10 – 15 minutes until the top is browned and crisp. Let stand 10 minutes before serving.
Notes
All images and content are © 2017 LE CREUSET. All rights reserved.
Cooks Recipes http://recipe.cookswarehouse.com/