Tag Archives:
quick and healthy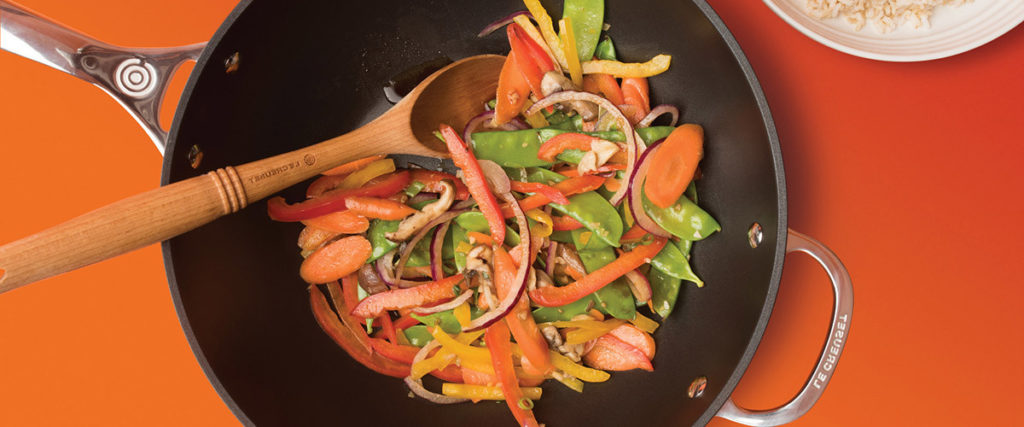 Ginger Lime Stir-Fry
2018-02-13 14:08:38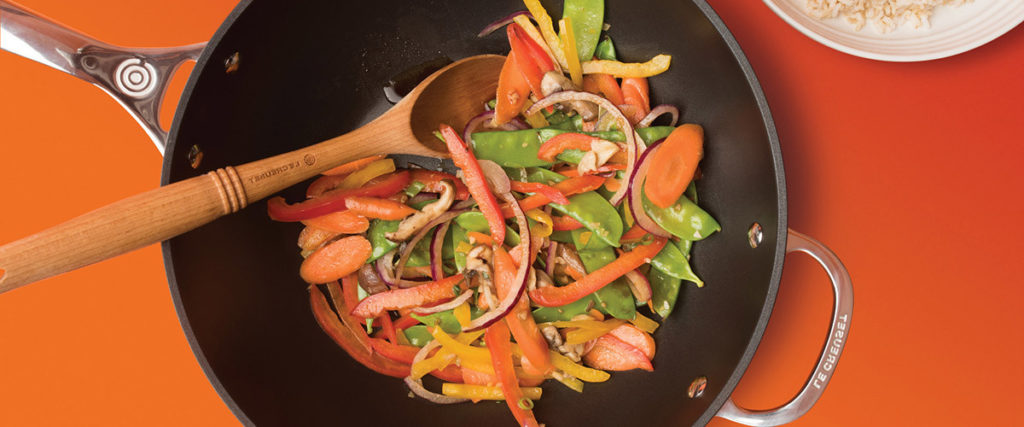 Ingredients
• 3 tablespoons soy sauce
• Juice from 1 lime
• 1 teaspoon toasted sesame oil
• 1 teaspoon cornstarch
• 1 teaspoon chili paste (optional)
• 2 teaspoons vegetable oil, divided
• 4 ounces mixed mushrooms, sliced
• 1 cup fresh or frozen snow peas
• 1/4 teaspoon salt
• 1/8 teaspoon freshly ground black pepper
• 2 teaspoons minced fresh ginger
• 2 cloves garlic, minced
• 2 scallions, sliced thin, divided
• 2 red bell peppers, sliced thin
• 2 carrots, sliced thin diagonally
• 2 teaspoons sesame seeds
• 3 cups cooked brown rice
Instructions
In a small bowl, whisk together soy sauce, lime juice, sesame oil, cornstarch and chili paste. Set aside.
In your Le Creuset nonstick stir-fry pan, heat 1 teaspoon vegetable oil over medium-high heat. Add mushrooms and cook until they begin to brown. Add snow peas, salt and pepper and toss for 2 minutes until the snow peas are tender. Remove to a bowl.
Heat remaining oil in the pan. Add ginger, garlic and all but 1 tablespoon of the scallions. Cook, stirring, until fragrant, about 30 seconds. Add peppers and carrots and cook, stirring, until just tender, about 3 more minutes.
Stir in the sauce and allow to come to a rapid simmer. Return the mushrooms and peas to the pan and cook 1 minute more.
Serve over steamed rice. Garnish with sesame seeds and remaining sliced scallions.
Notes
All images and content are © 2018 LE CREUSET. All rights reserved.
Cooks Recipes http://recipe.cookswarehouse.com/