Tag Archives:
Black Bean
Quinoa & Black Bean Salad
2014-02-20 12:42:55
Serves 10
Ingredients
1 teaspoon vegetable oil
1 onion, chopped
3 cloves garlic, peeled and chopped
3/4 cup uncooked quinoa
1 1/2 cups vegetable broth
2 teaspoons ground cumin
1/4 teaspoon cayenne pepper
salt and pepper to taste
1 cup frozen corn kernels
2 (15 ounce) cans black beans, rinsed and drained
1/2 cup chopped fresh cilantro
Instructions
Heat the oil in a medium saucepan over medium heat. Stir in the onion and garlic, and saute until lightly browned.
Mix quinoa into the saucepan and cover with vegetable broth. Season with cumin, cayenne pepper, salt, and pepper. Bring the mixture to a boil. Cover, reduce heat, and simmer 20 minutes.
Stir frozen corn into the saucepan, and continue to simmer about 5 minutes until heated through. Mix in the black beans and cilantro.
Notes
TIP: Add chicken for a one-dish meal with a little more protein/bulk.
Cooks Recipes http://recipe.cookswarehouse.com/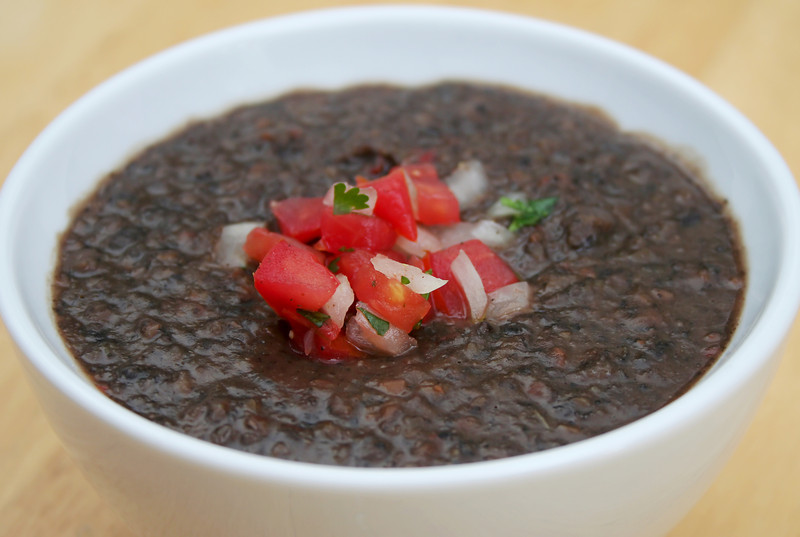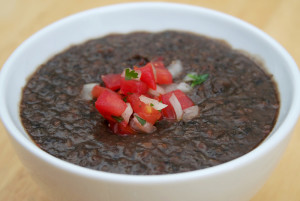 Black Beans with Ham Hock
2013-10-29 12:24:03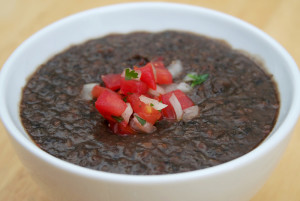 Serves 8
Ingredients
1 tbsp olive oil
1 ham hock (approx 1 lb)
1 med yellow onion, diced
2-4 cloves garlic, minced
2 fresh jalapeno peppers, diced (optional)
2 tsp ground cumin
Cayenne pepper to taste (optional)
1 lb black beans, picked through and soaked overnight then rinsed
4 cups chicken stock (or 6 cups for un-soaked beans)
Salt and freshly ground black pepper to taste
Instructions
Pick through beans making sure that there are no rocks or other debris. Place the beans in a tall saucepot and cover them with water by two inches. Let soak overnight. (They will swell so allow room in the pot)
In a heavy saucepan, sauté the ham hock, onions, garlic, and cumin in olive oil until the onions are translucent. Add cayenne if desired. Add black beans and stir.
Add enough chicken stock to cover the beans by an inch. Simmer over med-low heat, adding additional chicken stock as necessary, until beans are tender, 2 – 3 hours. Be sure to occasionally stir the beans and make sure there are none sticking or burning on the bottom of your pan. (if using a pressure cooker, place the lid on now, bring to pressure level 2 and cook approx. 25 mins. follow the instructions for your specific pressure cooker for beans)
Stir in or garnish with jalapenos before serving. (optional)
Notes
Use a pressure cooker for faster preparation, 30 mins instead of 2-3 hours
Cooks Recipes http://recipe.cookswarehouse.com/