Sausage and Cheese Soufflé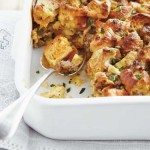 Sausage and Cheese Soufflé
2015-12-21 14:20:50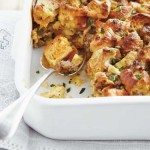 Serves 8
This decadent morning meal chills overnight, so it's ready to bake even before you've had your first cup of coffee. Serve it right out of the oven when it's hot and bubbly.
Ingredients
1 lb. ground pork sausage
4 oz. extra-sharp Cheddar cheese
8 large eggs
2 cups milk
3/4 tsp. salt
1/2 tsp. dried oregano
1/2 tsp. Dijon mustard
1/4 tsp. freshly ground black pepper
1/8 tsp. ground red pepper
1 lb. croissants (about 20 medium), cut into 1-inch cubes
Garnish: minced fresh chives
Instructions
Brown sausage in a large skillet over medium heat, stirring often, 10 to 13 minutes or until meat crumbles and is no longer pink. Drain and pat dry with paper towels.
Grate cheese on the large holes of a box grater. Whisk together eggs and next 6 ingredients in a large bowl. Stir in croissant cubes.
Add sausage and cheese; stir well. Pour into a lightly greased 13- x 9-inch baking dish. Cover and chill 8 to 24 hours.
Preheat oven to 350°. Remove dish from refrigerator, and let dish stand at room temperature while oven preheats. Bake, uncovered, at 350° for 55 minutes or until set. Garnish, if desired. Serve immediately.
Notes
Around the Southern Table by Rebecca Lang (Oxmoor House, 2012) Copyright © Rebecca Lang, Oxmoor House
Adapted from Around the Southern Table
Cooks Recipes http://recipe.cookswarehouse.com/
Google+