Pork Roast with Coffee Sauce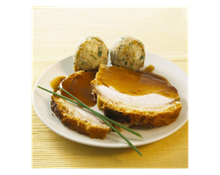 Pork Roast with Coffee Sauce
2016-02-11 09:13:09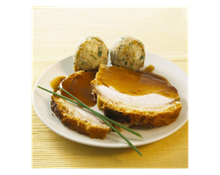 Ingredients
2/3 cup of coffee
1/3 cup of butter
2 tsp of Worcestershire sauce
1½ tsp of mustard
1 tsp of lemon sauce
1 tbsp of sugar
Pork roasting joint
Your De'Longhi coffee machine
A casserole
A roasting tin
Instructions
Cook the pork as per the instructions on the packet or from your butcher
Use a De'Longhi automatic coffee machine to quickly and easily produce your coffee.
In a casserole put the coffee, butter, Worcestershire sauce, mustard, lemon juice and the sugar
Mix it as you heat it over a low flame until the butter melts
Use some of the sauce to baste the pork roast while it cooks and keep the remainder for serving
When the pork is cooked reheat the sauce. Place the slices on to a plate and pour over the sauce.
Notes
This tangy sauce, with a little bit of heat, adds interest to roast pork. The fragrant, aromatic taste from just the right amount of coffee creates a depth of flavor.
Cooks Recipes http://recipe.cookswarehouse.com/
We recommend using a De'Longhi automatic coffee machine while making this dish.
Google+