Pan-Roasted Radishes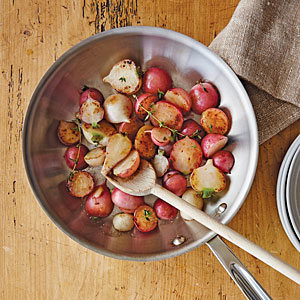 Pan-Roasted Radishes
2016-05-18 10:44:15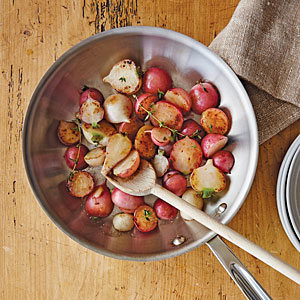 Serves 4
Ah, the radish. Its American history has it thin-sliced and tossed among mismatched vegetables and iceberg lettuce as an inconsequential splash of color. It's time to right generations of oversight of this marvelously delicious vegetable. Radishes of all kinds can stand up to fairly aggressive dry-heat cooking methods like pan roasting, as they contain plenty of water to help regulate their internal temperature during cooking. You will make this dish regularly, for the honor of radishes everywhere.
Ingredients
Cooking spray
1 pound red radishes, any shape, (about 3 bunches), halved lengthwise
1/2 tablespoon butter
2 whole sprigs fresh thyme
1 garlic clove, smashed with a knife
1/8 teaspoon kosher salt
Instructions
Fire up a large skillet. Medium-high.
Spray evenly with cooking spray.
Add the radishes. Using a wooden spoon, tumble the radishes in the pan while blistering and browning, about 1 minute. There are plenty of natural sugars to play with in those radishes.
When the radishes look toasted in areas and slightly pan-charred in others, lower the heat somewhere between medium-low to low (essentially, we want the radishes to sweat now, not roast, so low and controlled is the answer).
Tumble again. Monitor while the radishes collapse a bit. You'll see them getting tender before your eyes. Cook for about 6 minutes, tumbling occasionally.
Pierce one with a fork, not a knife. If it's tender, pick it up ceremoniously. Wave it in the air to cool it down. Sway your hips, too. It's cool to dance when you cook. Now, taste. You'll want to experience this flavor, even pre-seasoned.
Hopefully, they're not quite ready yet. Add the butter, the thyme sprigs, and the smashed garlic clove to the pan. Raise the heat to medium-high. Tumble for about 1 minute, allowing the garlic to toast. Season with salt.
Notes
Now here's a meal: Serve hot alongside the Cocoa-Crusted New York Strip and Maria's Cilantro Cebollas.
©2014, Keith Schroeder, Cooking Light Mad Delicious, Oxmoor House
Cooks Recipes http://recipe.cookswarehouse.com/
Google+