Hay Baked Lamb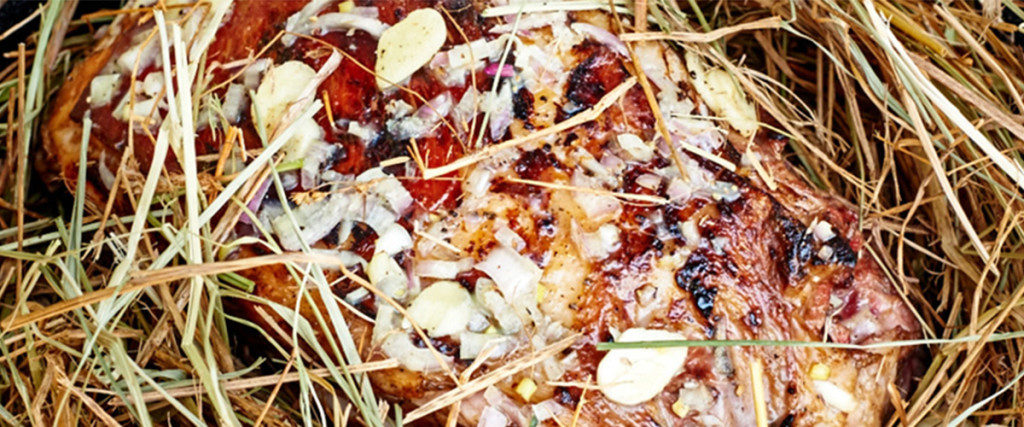 Hay Baked Lamb
2017-04-11 09:51:30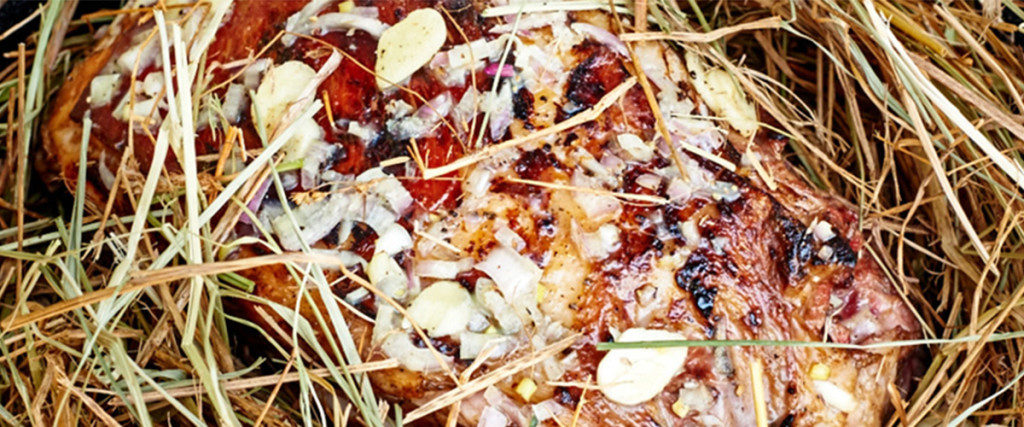 Lamb Ingredients
1⁄2 lb organic hay
2 lbs. whole lamb rack, cleaned
1 clove garlic, sliced
1 lb. tri color carrots, roasted
1 lb. fingerling potatoes, baked
Salt and pepper, to taste
1 cup olive oil
Chimichurri Ingredients
2 cups packed fresh herbs (the ones you like to eat)
3 garlic cloves, peeled
1/4 cup red wine vinegar
1/4 tsp red pepper flakes
1⁄4 tsp kosher salt
Lamb Instructions
Line a BGE Dutch Oven with organic hay.
Brush lamb rack with oil, then grill lamb rack until all sides are sealed.
Remove the lamb and the cooking grid; add the convEGGtor for indirect cooking.
Rub garlic, salt and pepper onto the lamb, place in hay lined Dutch oven. Cover with more hay and place lid on top.
Roast indirect (with convEGGtor) at 350°F/177°C in the EGG for 30 to 45 minutes or until internal temperature of 125 ̊F/52 ̊C is achieved.
Let meat rest for 15 minutes, and serve with roasted carrots, potatoes and herb Chimichurri Sauce.
Chimichurri Instructions
Place parsley, garlic, oregano, red pepper flakes, salt, and pepper (to taste) in the bowl of a mortar and pestle. Process until finely blended, add oil and vinegar at the end and muddle in the herbs.
Let sit for one hour for the flavors to blend.
Notes
Serves 4-6
Recipe courtesy of Robert Gerstenecker, Executive Chef at Park 75, Four Seasons Atlanta. Learn more about Robert in Southern Farm & Garden Magazine.
Photo credit: Wade Collins
Cooks Recipes http://recipe.cookswarehouse.com/
Google+