Bean & Barley Soup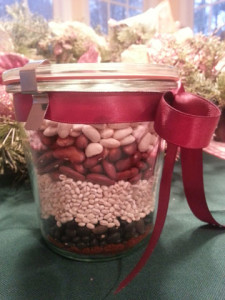 Southwestern Three Bean & Barley Soup Mix
2014-02-20 12:18:22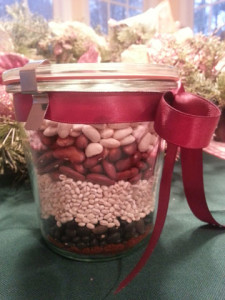 Ingredients
1 tablespoon chili powder
1 teaspoon ground cumin
½ teaspoon dried oregano
1/3 cup dried black beans
½ cup pearled barley
1/3 cup dried red kidney beans
1/3 cup dried great northern beans
Instructions
Heat 1 tablespoon extra-virgin olive oil in a Dutch oven over medium heat.
Add 1 diced large onion, 1 diced lg. celery stalk and 1 diced lg. carrot (or 2-3 cups mirepoix from Publix): cook, stirring occasionally, until softened, about 5 minutes.
Add 4-6 cups water, 4 cups broth (chicken or vegetable) and the soup mix.
Bring to a lively simmer over high heat.
Reduce heat to maintain a simmer and cook, stirring occasionally, until the beans are tender, 1 ¾ to 2 ½ hours (adding more water, ½ cup at a time, if necessary or desired).
Season with ¾ teaspoon salt, or to taste.
Notes
Additional seasonings that I used are: Tabasco, Maggi, Worchestershire sauce and freshly ground pepper
Cooks Recipes http://recipe.cookswarehouse.com/
Google+